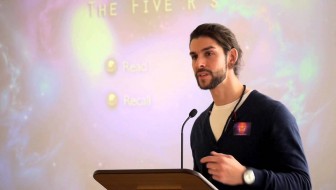 In case you've not yet subscribed to his popular Youtube channel, Nick Barrett is a lucid dreaming teacher from the UK, and the author of Spirit Guided Lucid Dreaming.
I love Nick's style and his approach as it resonates with my own. His new teachings in Unlock Lucidity don't just teach you how to lucid dream, but put lucid dreaming in the wider context of holistic health and spirituality.
It's truly refreshing, and full of practical exercises to support your lucid lifestyle in a sustainable way. This sort of focus is pretty rare in the lucid dreaming community.
I'm also pleased to play a small role with this new module, known as Realization 2. I teach a 20 minute video segment on sleep paralysis and lucidity–with a focus on strategies for interacting with the "Sensed Presence," in all of its manifestations from scary hag to healing ally.
I also teach a short bit on a little appreciated but very effective lucid practice that has been used for hundreds of years. All in all that's about 30 minutes of video education from me alone, and another 1.5 hours from Nick in this course which is meant to last 4 weeks.
The big news is that when Realization 2 is unlocked on Wednesday, June 17, the preceding module (Realization 1) will also be made available on YouTube in its entirety, free of charge.
Check out Unlock Lucidity and sign up to the newsletter to get more free videos from Nick so you can see for yourself his approach.
If you are interested in the spiritual dimension of lucid dreaming (by which I mean the old fashioned definition of spiritual aka "interacting with spirits") then Nick's approach is quite illuminating and well grounded.
Here's the link again.
And here's Lesson 1 to give you more of a taste for Nick's perspective.