Dream Studies Press is a digital publishing platform specializing in ebooks, digital kits and multimedia guides.
My latest ebook:
Big Dreams: Psi, Lucid Dreaming and Borderlands of Consciousness [Dream Like a Boss Book 2]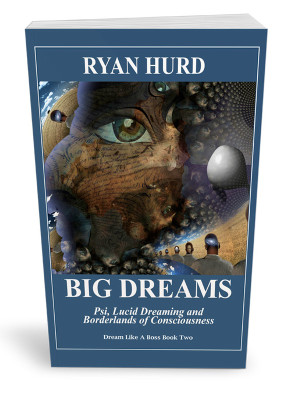 This ebook builds upon the concepts laid out in Book One of Dream Like a Boss and provides a roadmap for those dream experiences that come more rarely but have the power to change our lives forever. Included in Big Dreams is a detailed introduction into learning how to lucid dream, which is the wonderful experience of knowing you are dreaming and being able to make choices in the dream. Book Two also covers sleep paralysis visions and false awakenings, as well as the thornier issues in dream research, such as psychic dreams, past lives  and ancestral visitations.

Initial review for Big Dreams:
"A treasure chest overflowing with fascinating information and practical advice about psychic dreams, sleep paralysis, false awakenings, and lucid dreaming. A delight to read."
–David Jay Brown, Author of The New Science of Psychedelics and Mavericks of the Mind
Dream Like a Boss (Book One): Sleep Better, Dream More, and Wake Up to What Matters Most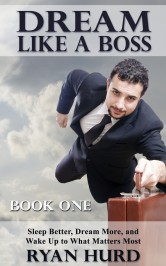 Dream Like a Boss (Book One) is an introduction to getting better sleep, having more dreams, and working with the insights that come from dreams and nightmares.
In particular, this book shows how to have more vivid dreams, find healing and insight, reduce stress-induced nightmares, tap into creative energy, and problem solve real-life issues. The book also discusses dream herbs, traditional and online dream sharing, and the most promising new dream apps.
For now, this ebook is exclusively on Amazon.com as a Kindle download. (By the way, if you have a smart phone, tablet, mac or PC, you can read Kindle books by downloading their free reader)

Reviews for Dream Like a Boss
"Hurd is going to change the way you think about your dreams! He teaches us how nighttime adventures can power-up daytime success."
—Gillian Holloway, Ph.D, author of The Complete Dream Book
"If you read only one book about dreams, read Dream Like a Boss! Ryan Hurd deftly blends sleep science and dream wisdom in this smart, comprehensive, and easy to read guide to the dreamworld."
—Anne Hill, D.Min., author of When Dreams Go Bad
"Dream Like a Boss is essential reading for those interested in understanding and exploring their nocturnal worlds. Hurd's passion for rational and detailed dream research shines through in his work; bringing readers unique insights and fascinating avenues of exploration. Whether you're a serious student of sleep, or simply a curious newcomer, you'll find Dream Like a Boss the perfect bedside companion."
—Daniel Love, Oneirologist and author of Are You Dreaming?: Exploring Lucid Dreams: A Comprehensive Guide
—————————————————————————————
Lucid Immersion Blueprint: the Complete Guide to Advanced Lucid Dreaming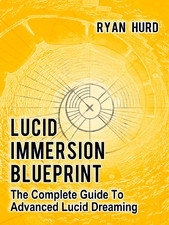 This multimedia digital kit –featuring the Lucid Immersion Guidebook and a lot more–presents a step-by-step plan for going deeper into lucid dreaming. This multimedia kit is designed for dreamers of all levels.
the Blueprint (Advanced edition) includes:
The beautifully designed 150+ page Lucid Immersion Guidebook (in epub, PDF and mobi files)
A bonus ebook: Overcoming Lucid Roadblocks
The Lucid WorkBook for working with the most common roadblocks to lucid dreaming
Over three hours of audio instruction
Valuable charts and lists for simplifying your lucid life.
Or go ahead and:

Reviews for the Lucid Immersion Blueprint:
"Extremely comprehensive, up to date on the latest findings, extensively referenced, and a delight to read, this book should definitely be in the hands of anyone who is ready to take on experiencing the exciting and rewarding realm of lucid dreaming."
— Robert Van de Castle Ph.D.
Professor Emeritus, University of Virginia Medical Center and Author of Our Dreaming Mind
"In this well written manual, Hurd gives his readers instructions on how to attain mindfulness, purpose, and intention as they attempt lucid dreaming. You could not find a better guide in the virtual world."
–Stanley Krippner, Ph.D.
Alan Watts Professor of Psychology, Saybrook University, Co-author of Extraordinary Dreams and How to Use Them
"Lucid Immersion Blueprint offers an accessible, artfully crafted, and practical guide to becoming fully 'awake' in one's dreams — and in one's life. Highly recommended!"
– Tracey L. Kahan, Ph.D., Psychology Professor at Santa Clara University and Director of the SCU Sleep Cognition Lab
—————————————————————————————————————————
The Sleep Paralysis Kit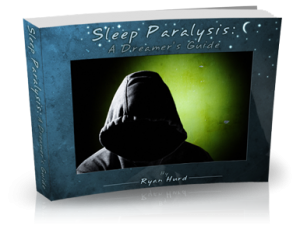 The Sleep Paralysis Kit features my full-length ebook Sleep Paralysis: A Dreamer's Guide and extra digital files to help you make the most of it. 
Sleep Paralysis: A Dreamers Guide is a 100+ page ebook designed to help sleep paralysis sufferers move from fear to fascination of this oft-misunderstood dreamstate.
It's also a practical, how-to guide for managing fear, and pushing the envelope of SP to experience lucid dreaming, out-of-body experiences, and other uncanny voyages on the edge of imagination.
If you want a rich, easy-to-read ebook experience, this PDF kit, with its magazine style format and tons of color illustrations, is perfect for reading on home computer, as well as on the iPad and other tablets.
Secure download also comes with:
Sleep Paralysis Management Worksheet
an hour long conversation Jorge Conesa Sevilla, author of Wrestling with Ghosts, a personal and scientific account of sleep paralysis
a 50 minute talk on sleep paralysis hallucinations that I gave at Stanford University in April 2012.
Learn more about the Sleep Paralysis Kit.
Or:
Reviews for Sleep Paralysis:
"The most breakthrough research and insights into controlling your sleep paralysis episodes, compiled into one place. If you suffer from sleep paralysis consistently, you really must read this book."
—Stanford University's Sleep and Dreams website.
"Using practical techniques, insightful advice and scientific research, Hurd takes the SP sufferer on a journey from intense fear to real hope and empowerment."
—Robert Waggoner, author of Lucid Dreaming: Gateway to the Inner Self.
"People who suffer sleep paralysis inevitably focus on their fear and discomfort, but rarely do they recognize that this strange experience also holds a huge potential for mind/body growth and enlightenment. Hurd's excellent new book gives clear and effective advice about how to diminish the painful symptoms of sleep paralysis, while leading readers to a deeper appreciation of the incredible power of the dreaming imagination—a power that can promote greater health and conscious awareness in all of us."
—Kelly Bulkeley, Ph.D., author of Dreaming in the World's Religions
——————————————————————————————————
The Ultimate Dreamer's Kit: Save 15%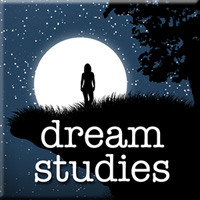 This is the "I want it all" kit: get ALL the material of the Lucid Immersion Blueprint (Advanced edition) and the Sleep Paralysis Kit conveniently bundled into one download, and for less.
That includes:
2 full length ebooks Lucid Immersion Guidebook and Sleep Paralysis: A Dreamer's Guide (over 75,000 well-researched words),
2 additional advanced lucid dreaming ebooks,
Over 20 pages of worksheets, practices and charts,
and 5 hours of exclusive audio instruction and expert interviews.