Happy New Year! I have been in my cave for the last week or so, thanks mostly to a bad head cold. I must have needed the break though because I've been sleeping like nobody's business.
The time off has also given me the chance to reflect — isn't that what the dark days of winter at the eve of the new year are all about?
Rubin Naiman was an inspiration in this regard–I just finished reading his book Healing Night a while back. His work allowed me to see that as much as I talk about sleep, dreams and consciousness, I hardly ever let myself actually rest.
In fact, I barely knew what rest meant by Naiman's definition, which in its purest forms does not include some old standards for me, such as reading or watching a movie, or more often these days, weasure, often with a drink in hand.
He writes,
If rest is not about activity, recreation or a substance-driven escape, then what is it? Basic rest and activity cycles remind us that rest is the counterpoint to activity. It is not an activity per se, not about being productive or utilitarian. Common methods of rest include meditation, prayer or yoga. Or just sitting. Sitting on the porch, sitting quietly, rocking, lying on the couch, strolling in a garden. Sometimes being at rest might look like being depressed, offensive to the workaholic in each of us. (39-40).
This blew my mind because I realized I am very utilitarian about relaxation–its a method, I use it to perform a function at key times of my choosing. I sat on the couch, blowing my nose and reflecting on this, and for the first time in a long time, just sat there, not checking Facebook on my iPhone, or busting out a book or journal article I need to read, and feeling the expanse of time and my thoughts.
Since then, just about every night I have been making more time for rest. Key for me has been staying away from computers at night and actually letting myself appreciate the dark. I'm planning to continue this non-practice in 2015, dedicating some evenings for reading books (made of paper, cloth and glue) and listening to music (made of analogue sounds that have not been compressed, shattered, and reassembled by the digital gods).
Anyhow, once I began making time for sitting still, I found that my thoughts naturally went to contemplating the year.
Out of that meditation has come the following notes for 2014 and the adventures ahead.
What went well
This was a big year for me in terms of publications. I published Dream Like a Boss in January, the scholarly anthology Lucid Dreaming in August (with my colleague Kelly Bulkeley), and Big Dreams (the sequel to Dream Like a Boss) just last month.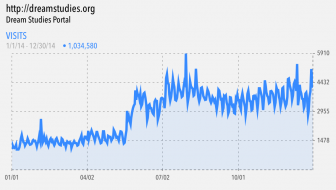 Dream Studies Portal also hit a landmark in terms of visitors: since June, the blog has been receiving well over 100,000 unique readers a month. And over a million readers this year!
This surprises me as I really didn't pick up my blog publication schedule, although once the anthology was at the presses, I had more time for replying to reader emails and participating on social media. That was eye opening: it's not so much my output of words that keeps this blog going, but my level of engagement.
I'm glad to be back.
Finally, last month I launched Dream Studies Press on its own website. This feels like a good move because I want to keep the Portal free, and I want to be able to continue funding the educational aims of this website into the future.
What didn't go so well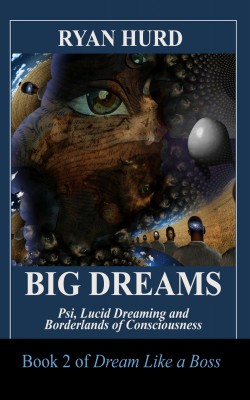 What also didn't go so well, admittedly, is the Dream like a Boss meme of my latest ebook series. A lot of my readers don't get the title, and have emailed me that it's off-putting for them.
I can't blame anyone for not getting the joke: It's an American thing, and it's a young adult thing. The meme is a parody of a Saturday Night Live skit. It just makes me laugh but perhaps it was not the most inclusive title I could have chosen for my latest works.
The nice thing about ebooks that you publish under your own press is that you can update them at any time!
So I'm happy to say I just re-released my new ebook about Big Dreams with a new cover, a slightly different title, and some updated material as well. As of today, the new version of the ebook is available on my press site, and it's out on Amazon too (but you only get the lucid dreaming video bonus if you purchase through my site).
If you've already purchased Dream Like a Boss 2, expect an email soon with the keys to the updated, and slightly expanded, version soon. You won't have to buy it again, ever, as all my ebooks come with upgrades for life.
What's ahead for 2015 for Dream Studies
I'll be covering more dream-related news in 2015, with round ups as well as shorter opinion pieces and more dream tech reviews.
For my own new features, I can't predict the exact nature of the muse, of course. After all, back in 2011 I was obsessed with sleep health, then I became very dream tech focused, and more recently I have really been digging the Fortean topics in consciousness studies such as psi dreams and the mystery of seemingly "past life" dreams.
The one thing I've learned keeping up with this blog for the last seven and half years is that if I tell myself what to write, it doesn't get done. The blog has to follow its own calling. Those of you who have been reading me for years have come to expect kind of whimsy from me!
Meanwhiles, expect more high quality guest posts from other leading consciousness writers as well, including new book excerpts.
With Dream Studies Press now up and running on its own platform, I hope to get some of my ebooks out in print this year. I haven't done this before; should be interesting. I consider it a good omen that the neighborhood which I just moved to in NW Philadelphia was home to the first paper mill in the British Americas (1692). In fact, it's likely that the house I live in was owned by the same family who ran the mills just down the hill. The publishing energy is strong here, and so is the dreaming (but that's a story for another time).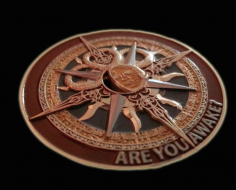 Speaking of whimsy, besides putting out books, I am now apparently minting coins. Not really sure how that happened, but it's true. I've gone ahead and designed my own lucid dreaming tool with my friend Lee over at LucidConsciousness.com, and it's some seriously ancient tech inspired by the medieval alchemists and the movie Inception.
The Lucid Talisman will arrive in the next few weeks. If you want to be notified when its available, here's the sign up.
Stepping up
The last two announcements are the most exciting for me, as they are new directions not only for the blog, but for my role in public dreaming education.
First, in 2015 I will be using the blog not to just report on dream studies but also to conduct my own research for hopeful publication in a peer-reviewed journal. In early January, be on the lookout for a new survey on the topic of lucid dreaming and dream supplements.
Second, I am soon to launch a new one-on-one coaching program for lucid dreaming. Because my time is so limited, I will be taking only a couple clients at a time, and focusing on dreamers who already know the basics of lucidity and want to go deeper. Readers have been asking me to do this for years, as it's a natural extension of my work on lucid roadblocks. I'm excited to begin a new level of lucid dreamwork.
I have to admit that putting this these plans down has made my hands sweat a little.  It's going to be an interesting year. I hope it's a good year for you too, and that you keep following the work that makes your hands sweat too.  In a good way. As Bob Dylan put it, "Whoever's not busy being borne is busy dying."
Happy New Year!