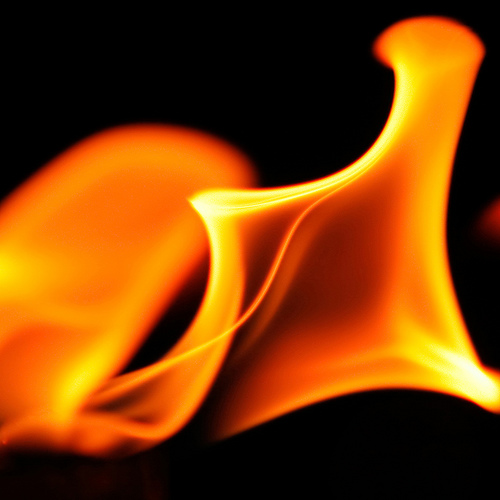 Image _MG_2109b (cc) by D N
If you are interested in the topics of alchemy, transformation of consciousness and dreams, I recommend checking out educational philosopher Seth Miller's website at Spirit Alchemy. Miller has tons of scholarly articles that expand the work of Rudolph Steiner and the ancient esoteric system of alchemy as it applies to human development.
I am particularly drawn to his synthesis of modern dream science and Anthroposophy. No, I didn't just spell "anthropology" wrong, although that's what my wordpress editor thinks."" "In its investigations of the spiritual world," as Wikipedia suggests with a half raised eyebrow, "anthroposophy aims to attain the precision and clarity of natural science's investigations of the physical world."
Anthroposophy and Dreams
Miller weaves together our nightly journey through sleep and dreams with anthroposophic principles, using dream scientist William Dement as his scientific guide. In a nutshell, Miller sez,
The selective activation of the limbic system in the REM state corresponds with the increased activity of the astral body in the etheric body (which in turn works into the actual physical body). This activity is strong enough to activate the long-term memory centers and the emotional centers, but is not yet strong enough to fully activate the sensorial components of the brain. Only when the astral body and ego unite fully with the etheric and physical bodies, having passed through the morning gate of sleep, do the parts of the brain necessary for sense perception and thinking become activated.
Miller also makes great use of original sketches to visually display how Steiner's theory of consciousness fits with modern neuroscience's description of the stages of sleep.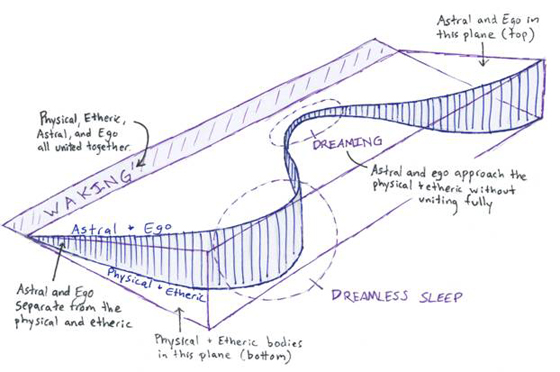 Image wakingdreaming by Seth Miller (2009), used with permission.
I"m always a sucker for an ancient psychology providing depth and understanding to accepted findings in Western science. Ancient systems of thought survive today because they are still applicable to our lives, and often these ancient metaphors are easier to grasp – as well as work with in our daily lives.