Thinking about thinking is hard, and thinking about dreaming is harder. Believe it or not, there is only one evolutionary theory of dreaming seriously at work these days in academia. Indeed, a theory supporting the biological function of dreams has a steep hill to climb, as we don't really have a complete theory for the biological function of sleep. So dreaming is still an unknown within an unknown.
But that hasn't stopped Antti Revonsuo, a Finnish philosopher who teaches at the University of Turku. At the 2008 IASD conference last month, researcher Katja Valli discussed the newest findings of the Revonsuo's team in regards to their Threat Simulation Theory for dreams.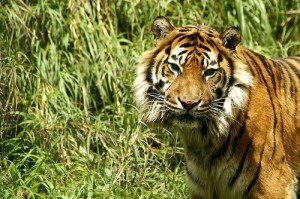 In a nutshell, the theory states that the biological function of dreaming is to stimulate threatening events in order to rehearse the perception of threats and how to go about avoiding them. So our ancestors are those who were good dreamers, and used dreams to practice the mental and physical skills needed to survive in the world. What isn't stated in this theory is whether or not dreams need to be remembered for them to do the job. Perhaps dreaming the tiger and forgetting about it did the trick?
This theory rests on the widely-accepted observations that most remembered dreams are stressful – filled with negative emotions and dramatic conflicts. Revonsuo focuses on this empirical dream content, and has spent the last decade illustrating the patterns of threats in the dreams of children, traumatized patients, nightmare sufferers, and even some contemporary hunter-gatherers for cross-cultural comparison.
Most recently, Revonsuo, Katja Valli and their team (see citation below) have focused on the threatening images of children – comparing traumatized children versus non-traumatized. They found that traumatized children (from war, abuse, and natural disasters) do indeed have more threats in their dreams. It's as if their early life triggered the dream simulation into high-gear.
Anyhow, many clinical psychologists would agree that dreams are revealing of our central conflicts, our past traumas, and so they represent a way of working with the turmoil of living. What marks this as an evolutionary theory, however, is tying this folk wisdom (and I mean this with all respect – this is empiricism at the ground level) to the evolutionary goals of reproductive success and the passing on of ones genes.
I"d love to hear some psychologists and anthropologists comment on this paring!
For me, this theory is intriguing, but it does not account for a mechanism that clearly links "successful dreaming cognition" with reproductive success. I"m not a strict materialist either, but if you"re going to play that game, you gotta stay within the rules. If we"re just ticking meat sacks, then we need mechanisms.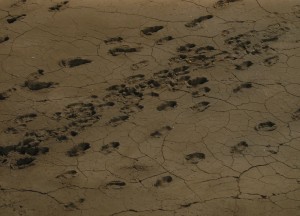 Deeper still, this theory rests on the assumption that early human life was full of risks and trauma that are not present today – the old "tiger in the woods," red tooth and nail. Reminds me of the Footprints of Acahualinca, which I saw in Nicaragua a couple years ago. For many years these amazing "fossilized" human footprints from 6000 years ago were thought to show a tribe of humans fleeing from a volcano. That has been recently disproved, based on improved geological information and dating techniques
But look at the gait of those footprints – this is a group of people sauntering across the mudflats, not running for their lives. It's so easy to project "disaster and terror" onto the distant past, but truthfully there is more danger in the world now than ever before. Tigers still eat solitary humans, but today's real dangers are much bigger and systemic: overpopulation, mass extinction rates, peak oil, GM foods, and the techno-military wing of global capitalism that threatens all of us.
My point is: life is still hard, and life is still beautiful. Dreaming as threat stimulation is only the first slice of the function of dreams being currently debated in the West. Ultimately, the theory a great first step, but it denies the rich imaginal levels of dreams that are just as important for human meaning: which is what people really talked about around the campfire a hundred thousand years ago.
VALLI, K., REVONSUO, A., PALKAS, O., ISMAIL, K., ALI, K., PUNAMAKI, R. (2005). The threat simulation theory of the evolutionary function of dreaming: Evidence from dreams of traumatized children. Consciousness and Cognition, 14(1), 188-218. DOI: 10.1016/S1053-8100(03)00019-9