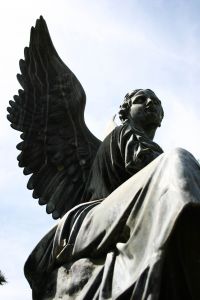 Noted dream researcher Robert Van de Castle is collecting dream reports about angels from the public. Angels and other figures composed of light have been making their appearance in Western dreams for several thousand years, yet their dream mythology has scarcely been explored except from a strictly theistic perspective. Van de Castle hopes to change that with his upcoming scholarly book Angels in the Night.
Whether you are a believer or not, it is undeniable that angels have been influential dream figures for millions of people, guiding actions, imparting wisdom, and even playing roles in military campaigns and revolutions. Angels, be them celestial guides or archetypal components of the mind, are a psychological reality.
Van de Castle suggests:
In addition to describing the dream in as much detail as possible and noting when it occurred, it would also be useful if you could comment about any possibly significant emotional events that were going on in your life before the dream and your subsequent reaction to the dream. Have you ever had any other similar dreams?
If you"re interested in participating in this dream study, here is link for the Angel Dream Project.