The 2012 conference for the International Association for the Study of Dreams is June 22-26, 2012 in Berkeley, CA. If you are ready to connect with a dynamic dream research community, here's your chance. Keynotes this year includes cognitive scientist Tracey Kahan, psychologist Patricia Garfield, and Fred Alan Wolf, aka Dr. Quantum.  Oh, and there's over 160 other cutting-edge presentations and workshops as well.
I'm presenting two papers this year.
First, I'm chairing a symposium titled Lucid dreaming: Transpersonal Approaches. My paper is "Lucid Immersion: establishing a lucid sanctuary in everyday life." Drawn from my recent project Lucid Immersion Blueprint, this paper is about how setting up a secure container is important for all lucid dreamers, but especially for those applying dreamwork as a spiritual life practice.
The second paper I'm presenting, part of a symposium on dream technology, is titled "The Quantified Dreamer."  I'll be reviewing the Zeo Sleep Manager, a home sleep-tracking device. Topics include Zeo's scientific validity and limitations compared to in-lab EEG, as well as my personal experience using Zeo to test dream supplements, hunt out-of-body experiences and track other weird sleep phenomena.
So, besides the fact that I'll be there, rocking out in my usual way, there's pretty much something for every dream-enthusiast at the IASD's annual conference:
get CE credits if you're currently in a US-based counseling program, as the IASD is a member of the American Psychological Association. 
catch up on the latest clinical, anthropological and cognitive studies on dreams.
attend tracks on dreamwork, lucid dreaming and psi, arts and humanities, and dream education.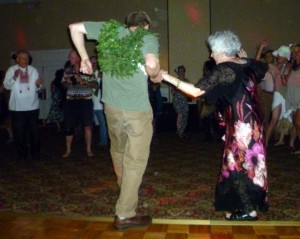 join one of the dozens of workshops that take you to the edge of the known dreamworld.
Still on the fence? On the last night, we all dress up as our favorite dream figures and dance like wild feral creatures.
What happens in the DreamBall stays in the DreamBall.
Learn more about the conference here. By the way, new members of the IASD get a break on the conference registration.