This article is an exclusive book excerpt from Llewellyn's Complete Book of Lucid Dreaming: A Comprehensive Guide to Promote Creativity, Overcome Sleep Disturbances and Enhance Health and Wellness by Clare Johnson, PhD.  The book is available now!
Engaging with lucid dream figures
In the classic mythical or archetypal journey, Christopher Vogler explains, "The hero naturally encounters new challenges and Tests, makes Allies and Enemies, and begins to learn the rules of the Special World." So it is with lucid dreaming; dream figures, whether they take animal, human, or non-human form, often seem keen to initiate the lucid dreamer into the deeper pos­sibilities of lucid dreaming. In 1994 I had the following lucid dream, which remains one of my all-time favourites for its surprise and the spiritual impact it had on me: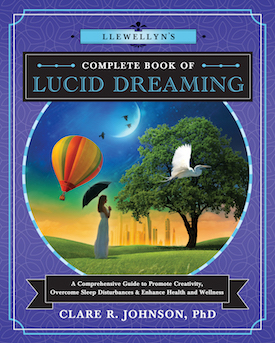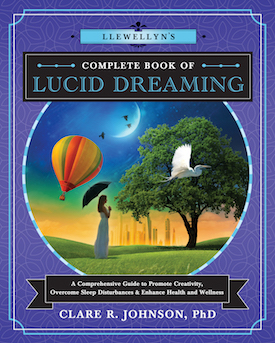 I announce: "This is as real as reality and I am dreaming." As if in response to a password, a ball of light starts to form across the room by the wardrobe. I watch it swirl and then stabilise. It is beautiful. The light coming from this ball is orange and yellow, and it has a distinctive female energy. I ask it what it is and (without words) I am told it will always be there to help me in my dreams. If I need it, I just have to call. It then gives me some sort of power word which I know I'll never forget. Then it disappears. I stare at the place where it was, and experience a rush of joy which propels me up and out of the window. I fly on the cool air and shoot up into the stars … Then I wake up, and can't for the life of me remember the power word.
The appearance of the ball of light was completely unexpected for me; it just manifested in response to my lucidity, and the offer of help was so clear and sincere that it left me feeling as if something deeply magical had occurred, even if over twenty years down the line I still can't consciously remember that password! Lucid dream mentors, guides, guardians, or allies share knowledge and offer help.
Passing Tests in Lucid Dreams
Sometimes the lucid dreamer isn't simply the recipient of knowledge—she must pass a test of some sort. When a friend of mine, Anja, was just fourteen, she flew in the form of an eagle to a high mountain with a Tibetan temple perched on top of it. There, she met some monks who were to become her teachers in a series of lucid dreams over the period of a year. The monks showed her books, symbols, and colours and explained to her that the physical body is made up of seven energy bodies. In her waking life, young Anja had never heard of energy bodies before. One of the monks told her he would like her to become his student, as she was a strong lucid dreamer, but she would have to pass numerous tests. Some were easier than others.
When she turned fifteen, Anja recalls failing an important test: In one lucid dream she was asked to walk across a bed of rainbow-coloured crystals, and she began to do so quite easily, feel­ing their warm glow under her feet, but halfway across she saw one crystal that was so incredibly compelling and precious to her that she stopped to pick it up and put it into her bag. She pleaded with the monk to allow her to take it home with her so that she could have it in her waking life. Of course, she woke up with no crystal, and kicked herself for being so thoughtless in the dream. She knew she had failed the test. To her chagrin, the dreams never returned.
The feeling we have on waking up from a dream is often a big clue as to the importance of the dream. Dreams can leave us feeling depleted or energised, depressed or buoyant, sad or happy, and the stronger the emotion is, the more the dream calls to be worked on, thought about, honoured in some way, and integrated into our waking life. In initiation lucid dreams, if we feel we've been shown something of value, it's good to write down the dream and spend time reliv­ing it. What is it really showing us?
If we open our hearts to our lucid dream figures, we may find they have a great deal to teach us.
Practice #25: Tips for Interacting with Lucid Dream Figures
Show gratitude: Thank dream figures who help you to become lucid! Offer them a gift (you can just look in your pocket for one or materialise it). If they're people you know in waking life, thank them in person when you get the chance.
Be respectful: Try not to assume that dream figures are made up solely by you and should therefore dance to your tune. Be open and respectful, and the potential for learning, healing, or understanding will automatically increase. Dreams are deeply mysterious: we do not yet know everything about them. Lucid dream figures may have plenty to teach us.
Listen: Instead of telling dream figures that they don't exist or that they are dream­ing, try listening to their point of view—it may be enlightening!
Be brave: Try not to flee from threatening lucid dream figures, as you stand to gain much more if you can stay calm and brave and question them in a friendly manner: "What do you want? Who or what do you represent? Do you have a message for me? Can we be friends?" Appease them with a gift. Breathe deeply; this calms just as well in dreams as in waking life.
Fight: If you need to, fight! In certain dream situations, dream violence can be cathartic and help us confront psychological issues as an important step on the path to wholeness.
Make friends: Follow the integration route of lucid dreaming and befriend your dream monsters. The simple act of hugging a negative dream figure in a whole­hearted way can release built-up anxieties and stress, and they may even become a powerful ally. I always say a live dream friend is worth more than a dead dream enemy.
From Llewellyn's Complete Book of Lucid Dreaming: A Comprehensive Guide to Promote Creativity, Overcome Sleep Disturbances and Enhance Health and Wellness, by Clare R. Johnson, PhD. © 2017 by Clare R. Johnson, PhD. Used by permission from Llewellyn Worldwide, Ltd., www.Llewellyn.com
---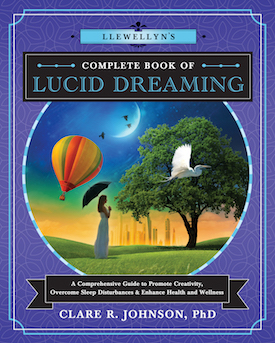 Find out more and discover new practical techniques for triggering lucidity, engaging with lucid dream figures, exploring the nature of dream physics, improving physical skills in lucid dreams, resolving nightmares and much more in Llewellyn's Complete Book of Lucid Dreaming: A Comprehensive Guide to Promote Creativity, Overcome Sleep Disturbances and Enhance Health and Wellness. 
---
Author Note: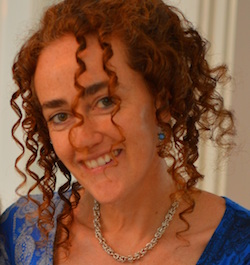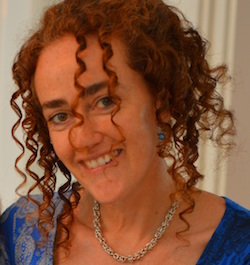 Clare R. Johnson, PhD, has researched lucid dreaming for two decades and is a life-long lucid dreamer. She is currently Vice President of the International Association for the Study of Dreams.
Her nonfiction books include Llewellyn's Complete Book of Lucid Dreaming and Dream Therapy (out in the US/Canada as Mindful Dreaming). Her lucid-dream-inspired novels (as Clare Jay) are Dreamrunner and Breathing in Colour.
Find out more on www.DeepLucidDreaming.com/books