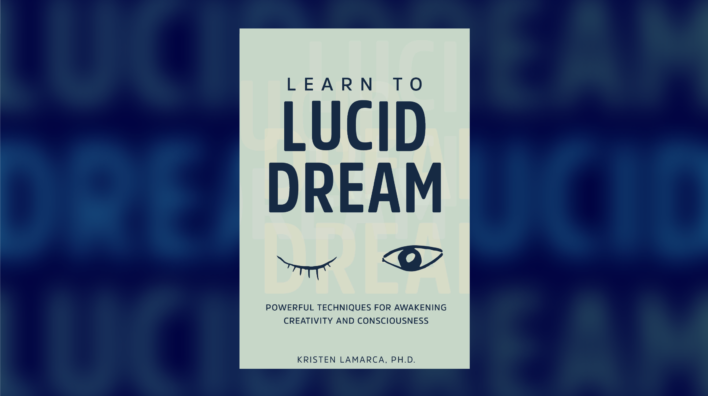 Here's an exclusive peek inside the new book of Kristen LaMarca, PhD, 'Learn to Lucid Dream: Powerful Techniques for Awakening Creativity and Consciousness." This methodical introduction teaches you both the science and spirituality of lucid dreaming. In this excerpt, you'll see how you can use lucid dreams to relate with your fears, emotions, and nightmares more creatively, easing you along your path toward healing and inner growth.
Transforming your Nightmares
Unresolved psychological conflicts tend to be symbolically represented in dreams. When dream content threatens your sense of safety or security, dreams turn into nightmares, which range from mildly distressing to terrifying. Mild distress may include the experience of things going wrong, being unable to find something, or anxiety about a social interaction. More distressing nightmares may result in waking with intense negative emotions and are sometimes experienced as repetitive, disturbing, or out of control.
Lucid dreaming's creative problem-solving potential presents a unique opportunity to renegotiate nightmare situations. The increased sense of safety and freedom from normal rules is ideal for transforming their outcomes.
Approaches to Nightmares
All humans are wired to seek happiness and avoid pain and discomfort. Problems arise when our automatic responses to challenges keep us stuck in a loop of running away from our fears, fighting with ourselves or others, or not doing enough to resolve an issue. This cycling between flight, fight, or freeze responses has long been ingrained in our evolutionary history to help us adapt and survive.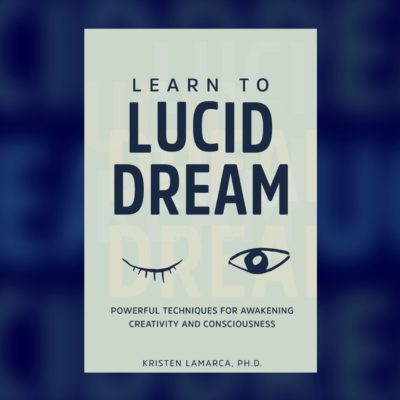 But there's a more effective approach for supporting your personal growth. This is known as self–integration, in which you show a willingness to engage with the uncomfortable or distressing parts of reality in a way that reflects a deeper connection with yourself.
People tend to respond to stressful dreams using one of four strategies: Avoid, Confront and Conquer, Go with the Flow, and Seek Self-Integration (described in the table below). Each approach comes with its own set of advantages and disadvantages, which vary in importance depending on the nature of the nightmare and your individual context. But overall, a self-integration approach foreshadows the best outcome to resolving nightmares. As self-integration is a personal growth concept that extends beyond just nightmares, the next section elaborates on exploring it in lucid dreams.
Read through the table [below] and consider the pros and cons when forming your own responses in lucid dreams, and also when you practice MILD and rescript your dreams after you wake up.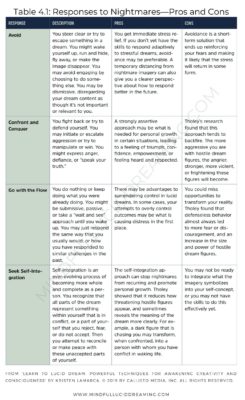 PRACTICE POINT: Rescript a Nightmare
Rescripting the story line of your nightmares so that they include lucidity is a rich practice that can enhance self-understanding and prepare you to respond to stress in future lucid dreams with more resilience.
In keeping with the three Rs of your MILD practice (See this post on the MILD technique), rescript nightmares as though you had become lucid and facilitated a better outcome. Write the rescripted version in your dream journal, if you wish. Rehearse new outcomes in your imagination and remind yourself to become lucid the next time you're having a nightmare. It is useful to do this right when you wake up from nightmares, but it may be easier to do in the daytime when you've had more distance from the dream.
After rescripting your dream, decide what type of response (Avoid, Confront and Conquer, Go with the Flow, or Seek Self-integration) you used in the revised version of your dream. No matter what category seems to fit best, remember that these categories are not necessarily mutually exclusive. In fact, all lucid dream behavior may reflect progress on the path toward self-integration at least on some level, though some responses certainly demonstrate this better than others.
---
ADVENTURES IN LUCIDITY

I was having a series of wake-initiated lucid dreams (WILDs) during which I would get stuck in sleep paralysis and be visited by figures such as a corpse, a mangled woman, and a mummy under my bed. I learned that these images were representations of my own self—parts of me that had been wounded, lost, or were suffering. At the time, I didn't know how to accept this, but I vowed that during my next lucid nightmare, I would overcome my fear and engage these figures.

As expected, I was frozen again in sleep paralysis the next time I was lucid, but this time, a monstrous creature was heaving with anger at my bedside. Though the paralysis would not let me speak to the figure, I knew I did not need a voice. Instead, I projected my thoughts telepathically to communicate. I introduced myself and said that I was sorry that it was angry or sad, and that I was there if it wanted to talk.

To my surprise and delight, it began to wag its tail. I became unstuck and began to pet it. I gave the being a hug, and it disappeared into my arms. After that, the nightmares stopped recurring.
---
SELF-INTEGRATION
Self-integration is a concept that has been described throughout human history. It's about creating connection and harmony between all parts of oneself. A helpful outlook in the lucid dream state is to view your dream imagery as representing something about yourself or your life. By interacting with these images, you can learn how to defragment your identity and embrace all aspects of who you are, including your unrecognized strengths, as well as the parts that you dislike or disown. This process of integrating your personality can help you reduce inner conflicts and improve your relationship with yourself and others. It can also help you dissolve the illusion of separateness between what you deem to be "you" and "not you," which is necessary to move beyond the self—to experience self-transcendence and spiritual awakening.
Dream Archetypes and "The Shadow"
An archetype is a universal symbol that is seen in lore across cultures, religions, and history. Today, we commonly see archetypes dramatized as characters in books and movies, such as the wounded healer, the villain, or the jokester. In your dreams, archetypes are not just the characters, but also the objects, settings, story lines, and other elements. Examples of classic archetypes in dreams might include an apocalyptic flood, the first day of school, your inner hero, or a mother and child.
The shadow is an important archetype that represents the parts of you or your life that you have not fully accepted. Often, the shadow signifies something that you are in conflict with, reject, or do not identify with. This could represent a part of your personality, a relationship, a past memory, a part of you that is suffering, or something related to broader society. The shadow can also be a neutral or even positive part of yourself that's not fully developed.
Carl Jung believed that contemplating archetypes and finding adaptive ways of relating to these images can foster self-integration. However, you don't need to understand what these images specifically mean about you to change your relationship with them.
Real-Time Dream Interpretation
Interpreting your dreams while you're still dreaming can add new depth to your lucid dream practice. Instead of waiting until you're awake to figure out what your dream means, adopt the view that while still dreaming, the images you're encountering are symbolic representations of parts of yourself. This will let you interact with your dreams with a greater degree of intimacy and intellect. You can directly ask your dream figures what they symbolize, and request recurring dreams to reveal their meaning. Lucidity applied in this way readily mirrors you back to yourself with more clarity. Here's an example of fostering self-integration by understanding your dream's meaning while lucid dreaming.
Panicked that I wasn't prepared to take a math test, I remembered that I graduated long ago and that this must be a dreamsign. I thought, "Math problems? What could that mean?" The teacher seemed to be the most qualified to respond. I stood up and asked, "What kinds of problems am I trying to solve in my waking life?" At that moment, she turned into my wife and told me that I've been ignoring our relationship too much. I apologized and said that I know our problems are complex, but I would try to work on them more. She thanked me, and I awoke feeling like a weight had been lifted.
Conciliatory Dialogues
One of the most constructive ways to engage unintegrated parts of the self, such as hostile dream characters, is through conciliatory dialogues. Lucid dreams can respond to this change in attitude toward the shadow with a gentle interplay that promotes healing and personal growth. Here are suggestions to help you organize your interactions with threatening or shadow-like figures while lucid dreaming.
Remember that you are safe. Shadow figures are not of any physical threat to you in lucid dreams. Try to see them in another light; for instance, as a part of yourself that is suffering or needs help.
Be friendly, open, and curious. Smile, look your dream characters in the eye, and use nonthreatening body language and gestures. Show that you are willing to connect.
Ask questions. Seek to understand the figure or your situation. Ask shadow figures to tell you about themselves. A shared understanding can help you resolve the psychological conflict that these figures represent.
Practice compassion. Tell shadow figures how you empathize with their feelings. Express warm wishes that they may be free from their suffering.
Offer and ask for help. Ask, "How can I help you?" or, "Can you help me?" If you have a specific idea of something that could help, propose it to the figure in your dream.
Express thanks. Offer gratitude to the figure for being in your dream and helping you learn about yourself. You can also offer a gift to the figure, and ask the figure if it has a gift for you.
Occasionally, you might find that shadow figures in lucid dreams are uncooperative with even your most wholehearted attempts to reconcile with them. If necessary, set boundaries with the figure or stand up for yourself, which might produce a better outcome for you than feeling helpless.
THE PEOPLE IN YOUR DREAMS
Some believe that dream characters are figments of the imagination, so it doesn't matter how they're treated. But one of the key tenets of lucid dreaming is that what appears to be separate from you in dreams is actually a reflection of you and your own mind. Be kind and compassionate to your dream characters, and therefore, to yourself.
Healing Dreams
Since ancient times, people have integrated mental imagery into cultural practices for healing, which has included the use of dreams. Your dreams are a landscape that dramatizes your memories, difficult emotions, wounds, and unfinished business—you can use lucid dreaming to intentionally explore all of these to ease your suffering and nurture self-integration. Dreams also contain wisdom about the body, including illnesses, providing ways to heal the mind-body connection through lucid dreaming.
They say that time heals all wounds, but a year had passed since my mother died, and I was still struggling. In my dreams, she looked just like she did while alive, but sad. These dreams always had some sort of tension between us, and I would awaken grief-stricken. I began learning how to lucid dream so that I could see her more often. I'd repeat before bed, "When I see my mom tonight, I will remember that I'm dreaming." When I saw my mom days later, it clicked. I said, "Mom! This is a dream! Let's dance!" I took her in my arms and twirled her around. Her favorite song began playing out of nowhere. We talked for quite some time. I was so happy that I was able to experience her again. I realized that my relationship with her was not totally lost. I still look forward to her visits whenever I go to sleep."
---
ADVENTURES IN LUCIDITY

I became lucid during a dream in which I was traveling in Europe with my fiancé. I grabbed his hand and we began soaring over a plaza with Romanesque fountains. I remarked that we should try to heal the stubborn patch of dermatitis on his knee, which he had had for months. I placed my hand over it, and spontaneously recited a popular Buddhist mantra: Om mani padme hum.

When I woke up, I told him about the dream, but the rash on his leg looked the same. The next day, he noticed that the top layer of skin seemed to change form. I joked that it was probably from the 'lucid dreaming medicine' I had given him.

A few days later, we were vacationing in Hawaii. Hiking behind him on a steep, wet trail, I pointed out that his skin was looking better. I suggested that we honor the dream with a ritual, so I rubbed his knee while repeating the mantra again. A week later, his skin was completely healed.
---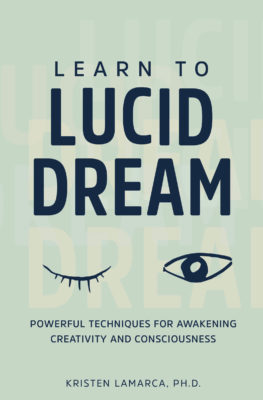 Excerpt from Learn to Lucid Dream: Powerful Techniques for Awakening Creativity and Consciousness, by Kristen LaMarca PhD. Published by Rockridge Press, ©2019 by Callisto Media, Inc. All rights reserved.
Learning the extraordinary art of lucid dreaming is easier than you think with the right mind-set and techniques. For step-by-step plans, personal accounts, a 24-hour practice sequence, and more, check out Kristen's book Learn to Lucid Dream—Available now.
Author Bio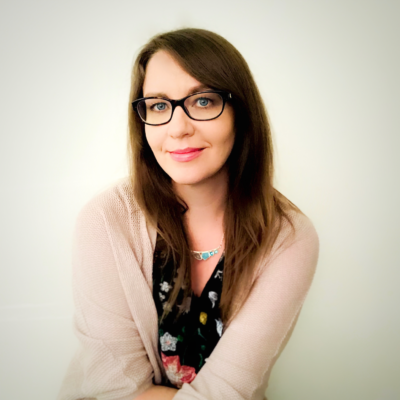 KRISTEN LAMARCA, PhD is a clinical psychologist with expertise in applied psychophysiology, sleep disorders, and lucid dreaming, specializing in Lucid Dreaming Therapy for nightmares and stress-related conditions. Kristen co-facilitates Stephen LaBerge's intensive programs and runs an online workshop in lucid dreaming that integrates induction science, mindfulness meditation, and personally-tailored coaching. Learn more about her work at www.mindfulluciddreaming.com.
---