As of today, for the first time in 25 years, the world has an up-to-date resource on lucid dreaming research! Published by Praeger in a handsome, two volume hardback reference set, it's called Lucid Dreaming: New Perspectives on Consciousness in Sleep.
Edited by myself and my colleague Kelly Bulkeley, the book is a snapshot of current topics in lucid dreaming–briefly defined as the experience of knowing you are dreaming while sleeping.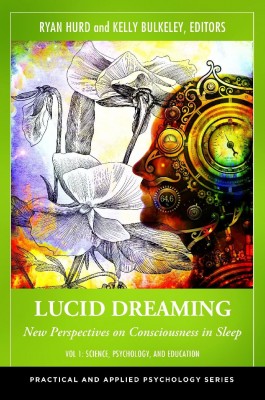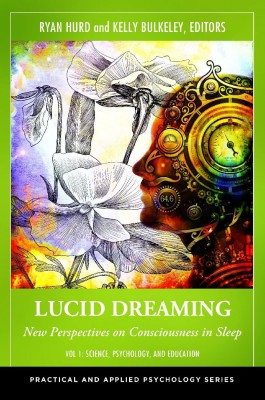 Y'all, I'm not going to lie, this is a beautiful collection. Praeger did an amazing job on the cover designs and the layout, and we are excited to also have original art from lucid artists, including Fariba Bogzaran, as well as original ethnographic photographs, comics and graphics too.
Admittedly, due to the price, this two volume set will mostly attract serious dream nerds.
Granted, if you can't add the book to your personal collection, I recommend printing the book page from Amazon.com and presenting it to your local librarian. Tell them to buy it. I worked in libraries for years and I can tell you that they will buy it if there's enough interest. We are hoping to take lucid dreaming scholarship deeper into public and academic libraries than ever before.
Here's more from the publisher:
"Topics covered include the neuroscience of lucid dreaming, clinical uses of lucid dreaming in treating trauma, the secret history of lucid dreaming in English philosophy, and spiritual practices of lucid dreaming in Islam, Buddhism, and shamanic traditions. The work also addresses lucid dreaming in movies including The Matrix and literature such as the fiction of J.R.R. Tolkien and explains how modern video gaming enhances lucidity. This set serves as an ideal text and reference work for school libraries and academic courses in anthropology, psychology, religious studies, and cognitive science as well as for graduate-level study in holistic education—an increasingly popular specialization.
Features
• Presents a variety of expert perspectives on lucid dreaming from many different cultures that represent a breadth of disciplinary perspectives
• Provides theoretical models that integrate scientific reason, mysticism, and individuals' experiences, making way for a new level of sophistication in the study of lucid dreaming
• Offers practical insights for therapists, teachers, and researchers as well as students and scholars of psychology, anthropology, and religious studies while containing accessible information and compelling personal narratives that will appeal to general readers
You can order the book from Amazon here.  You can also order it directly from the publisher, but it may cost a few dollars more due to a launch sale on Amazon.
Thanks as always for supporting my work! This is a big one and I'm really excited to see the conversations the collection will start… and the lucidity it will trigger too.