As the days grow shorter here in the Northern hemisphere, and pumpkin spice is forever wafting through the air, we are once again allowed to speak of the ghosts, monsters and demons that haunt our collective imagination. When the veil is gets thinner, the taboos of the underworld lift up. At least, that's the case for the next week, and then it's back to good cheer and rum balls until the New Year. 
Many dreamers harbor a heavy secret about how the ideas of ghosts, ghouls and other unpleasant creatures of the night came to be – and no, they aren't just fairytale stories remembered from questionable children's books read at bedtime. 
Rather, our knowledge of these entities comes from personal experience. Recent experience, maybe from last night.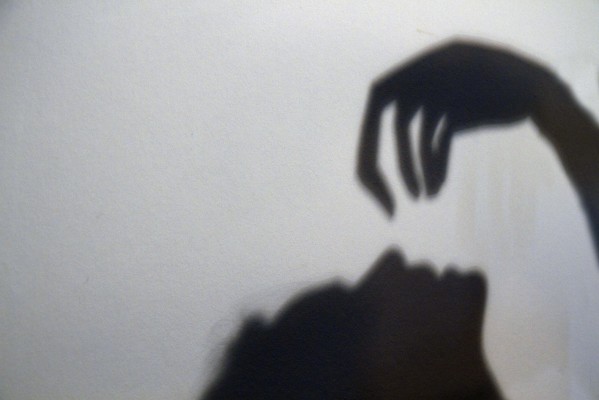 I'm talking about sleep paralysis of course.  Almost a household name, sleep paralysis is the temporary experience of waking up from sleep (or just falling asleep), and feeling a weight pull down upon you.  It's a biological hiccup that allows REM dreaming to intrude into waking life. You can't move, and you can't scream. 
What happens next is the waking nightmare from which all horror movies draw: a feeling or a vision of a creature sitting by the bed or sitting on your chest watching as you try to escape. In the most fully-realized and horrific cases, the entity can sexually abuse the dreamer.  
And then you wake up and turn the light on. And you're fine. No one is here. It was just a dream, but it seemed so real.  
"Silly me, so irrational. No more listening to Lore before bed," you think. 
But as soon as you turn the light out, and drift back to sleep, the weight is back. And so is the Stranger in the room.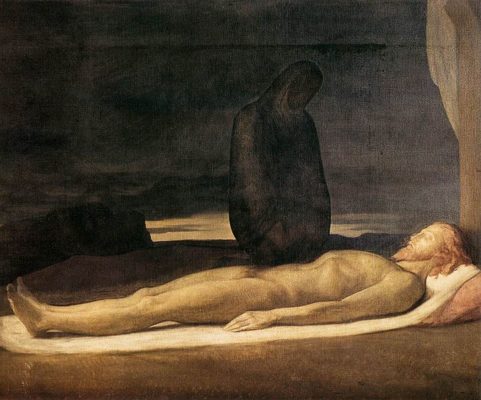 What fascinates me after all these years is how the Stranger takes many forms. Dream research has revealed that sleep paralysis and its hypnagogic hallucinations – those visions that come on the bookends of sleep – is a universal human experience. However, people in other parts of the world don't see the same ghouls and hags that I do. 
Let's take a brief tour around the globe and learn about the terrifying varieties of the Stranger that emerge from sleep paralysis with hypnagogic hallucinations (SP/HH).  There are no doubt hundreds of indigenous and folkloric accounts hidden in ethnographies from decades past in which night assault was dutifully described by researchers but interpreted as myth or exaggeration. This is but a wee sampling…
In Japan, the Stranger is called "Kanashibari," and many believe the figure is a retaliating spirit or ancestor. In Thailand, the nightmares are known as "Phi um," which means "being enveloped by a ghost." In Newfoundland, people whisper about the old hag syndrome, and in Hong Kong, ghost oppression.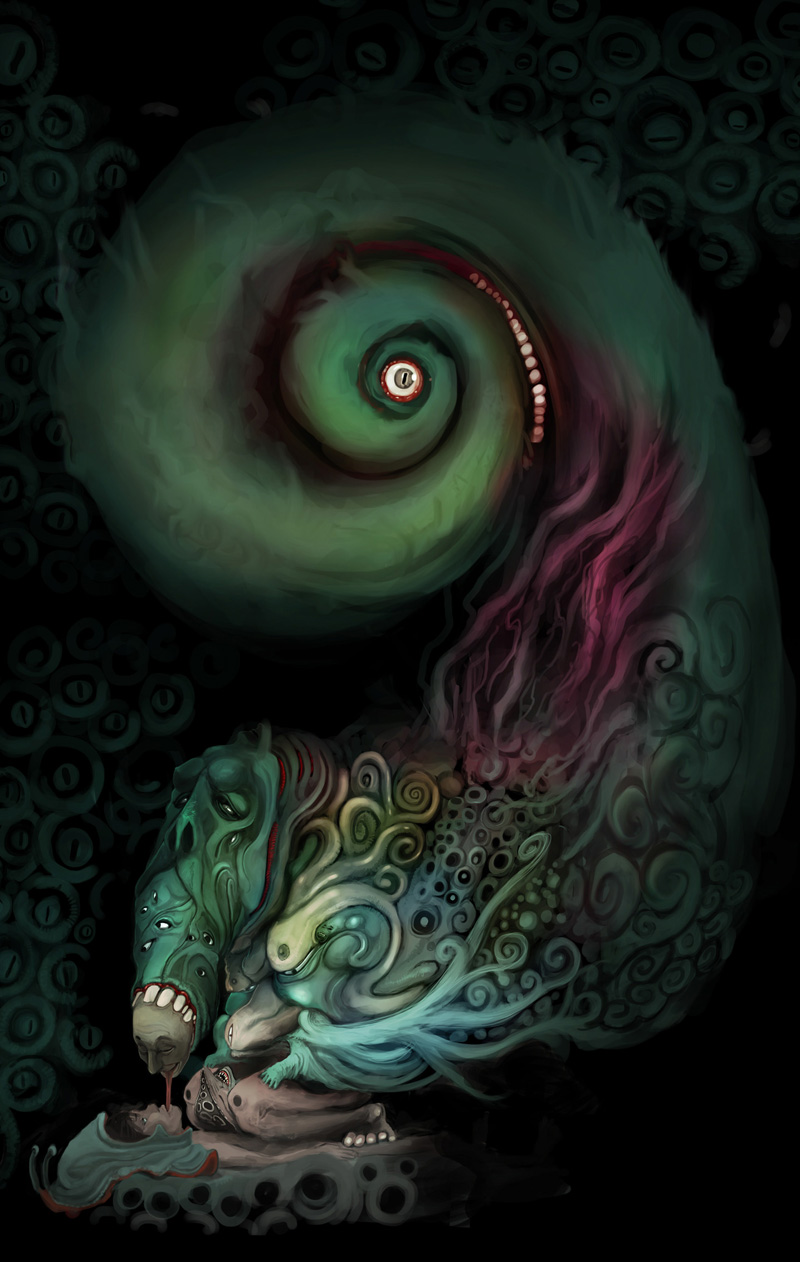 Meanwhile, Hawaii is haunted by "night marchers," the Hauka'I po, who are respected warriors from the ancient days. The sound of their footsteps and pounding drums as they walk is fearful because of the belief that looking into the eyes of the warriors will bring death. What makes this variation interesting is the focus on the auditory hallucination of the marching feet and drums [1].
In the Inuit cultures of the far North, SP/HH is interpreted as an attack by a shaman or some malevolent demon. It is also possible in this same state to travel to the land of the dead. Youth in the same culture, however, are more likely to attribute SP/HH to the Christian notion of the "devil trying to get you"[2].
In Mexico, sleep paralysis is known as "se me subió elmuerto," or "a dead body climbed on top of me." In Brazil, the experience is known as an attack by the Pisadeira, a hideous, gaunt crone with unkempt hair and long fingernails who lurks on roofs at night. Although this cultural figure appears to have originated in Portugal, the indigenous Brazilian tribe of the Tupi also speak of an old woman known as Kerepiiua who comes at night to torment sleepers [3].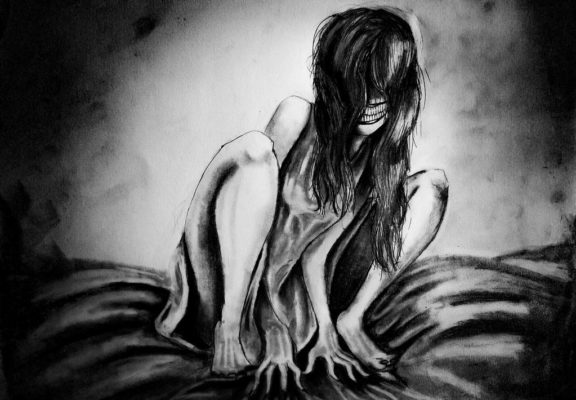 Expert Alan Cheyne describes an account of a Native American woman whose apparition takes the shape of her childhood myths: "Spider woman came from the ceiling and wrapped me up and sang songs to me. It was then and later when the Deerwoman would come and stand at the foot of my bed."[4]  
Refugees seem to suffer terribly from SP/HH, as the phenomenon is associated with panic disorder and Post-traumatic stress disorder. In Cambodia, SP/HH is translated as "the ghost pushes you down" [5]. In several of these chilling accounts, the apparition takes the shape of individuals who were murdered during the brutal Khmer Rouge regime. Another terrifying example from this culture, documented by Cheyne, is a trio of humanoid creatures covered with fur and with long fangs that leer over the bed.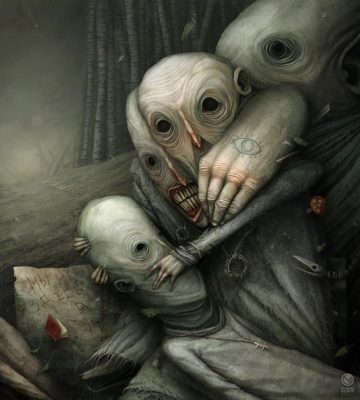 Among Cambodian refugees in the U.S., the SP/HH encounter is linked to the Sudden Unexpected Nocturnal Death Syndrome (SUNDS), a mysterious pattern of deaths in healthy adults that now appears to be an inherited heart disorder known elsewhere as Brugada syndrome. Nonetheless the folkloric tie to the nightmare remains strong even today. In essence, the Hmong of Cambodia, Laos, Thailand, and Vietnam, consider SP/HH an unsuccessful attempt by a demon to kill the dreamer. The fear of this encounter naturally elevates the fear during SP, resulting in in- tense death anxiety. 
Shockingly, in this particular case, it may be that sleep paralysis is a contributing cause of death due to this complex nocebo effect that activates death anxiety amongst those with heart  defects.[6]  A nocebo is the opposite of a placebo: a belief that actually does one harm.
In many cultures, if ancestral spirits are not properly attended to, a rift opens allowing harmful spirits to enter the world.
A weaker interpretation is that the fear of supernatural assault is so great among the Hmong that sleep paralysis may itself be a cause of Post-Traumatic Stress Disorder, a malady that affects millions of the dispossessed and those traumatized by war, natural disasters and sexual assault [7]. 
This fine point is still debated and unfortunately, too often taken out of context to suggest that sleep paralysis is deadly in and of itself.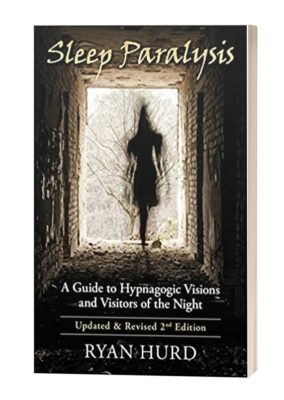 To be clear: sleep paralysis is not deadly in and of itself. The evidence of the Stranger in so many cultures today, as well as throughout history, indicates that people have been coping with this unique vision state for a long time.
What do you see do when the Stranger decides to sit with you?  I'd love to hear about your visitations — and how you deal with them — in the comments below or join the conversation on my Facebook page.
This essay is adapted from my book Sleep paralysis. 
Additional Sources
1 Conesa-Sevilla, J. (2004). Wrestling with ghosts: A personal and scientific account of sleep paralysis. Xlibris, p. 27.
2 Law, S. and Kirmayer, L., (2005). Inuit interpretations of sleep paralysis. Transcultural Psychiatry, 42(1), p. 206 
3 de Sá, JFR and Sérgio Mota-Rolim (2016). Sleep paralysis in Brazilian folklore and other cultures: A brief review. Frontiers in Psychology, 7: 1294. 
4 Cheyne, J.A. (2001). The ominous numinous: Sensed presence and 'other' hallucinations. Journal of Consciousness Studies, 8, no 5- 7, pp. 133-150. 
 5 Hinton, D., Pich, V., Chhean, D., and Pollack, M. (2005). The ghost pushes you down: sleep paralysis-type panic attacks in a Khmer refugee population. Transcultural Psychiatry, 42(1), pp. 46- 77. 
6 Adler, S. (2011). Sleep paralysis: Night-mares, nocebos, and the mind- body connection. New Brunswick, NJ: Rutgers University Press, p. 130. 
7 Hinton et al., p. 68.