This is my second article in the series 10 ways to work with your dreams.  Over the next week or so, I'll be rolling out my favorite ways to deepen the experience of the dream.   The real foundation of working with dreams is getting them out of your memory and into the world.   Keeping a dream journal is important, and could easily be the first post in this series, but I want to start with the historical, low-tech, and most widespread way of honoring your dreams: sharing them.
Dream sharing is ubiquitous across the world's cultures and you can bet that dream sharing has been a standard human activity for as long as we have had the ability to:
Remember our dreams
and articulate them.
It's Our Cognitive Heritage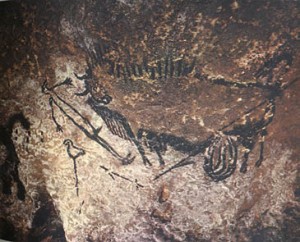 That pretty much means we're talking about an dream-centered behavior that reaches back at least one hundred thousand years, or as long as modern humans (homo sapiens sapiens) have had a functional larynx.   Do we have physical evidence for this?  No, not directly.  But we do have some ancient rock art that dates into the Upper Paleolithic that happens to bear a striking iconic similarity to what we today call "big dreams."  And as cognitive archaeologist David Lewis-Williams has suggested, "Humans cannot refrain from dreaming."
The human visionary capability is simply part of our cognitive heritage.  However, I could be wading into bad science by suggesting that ancient humans talked about their boring dreams too, which surely existed in the ancient past as much as today.  Luckily, we don't have evidence for that.  (What would an ancient human dream journal look like?  "Ate dried elk tendon for dinner again, tastes like feet.")
In any case, as social creatures, we humans share our dreams, and typically we share them with those who we are most intimate with.  Across the world today, most intact dreaming cultures do their dream sharing with their kin and their friends.  It's a domestic thing.
A smaller amount of dreaming cultures share in other settings, such as village meetings, in private to healers and shamans, and occasionally during seasonal festivals.
Taboos in Dream Sharing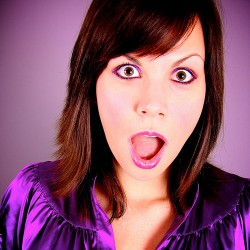 Bringing dream sharing back into your life is pretty easy, but there are some pitfalls.  Some dreams are not meant to be shared, but the rules for that differs from culture to culture.  For instance, for the Dine (Navajo) people, sharing the dream from a vision quest could rob the dreamer of his power.
Because social taboos are frequently encountered in dream content, their telling is often highly ritualized.  A good example of this is the Iroquois people in the 17th century, who acted out their tabooed dreams twice a year, even if it meant admitting they had a crush on someone who is married, or violent feelings for a rival.  This special kind of dream-sharing seems to have functioned to "air the dirty laundry" in order to reduce its charge, and prevent unconscious acting-out that could escalate if left unchecked.
Which is why I wish dream sharing was a mandatory start before every meeting of the United Nations, by the way.  (hey, I'm a dreamer…)
There's no way around it: if you engage in dream sharing you will brush up against some tabooed material.  Whether or not it is appropriate to share the dream is completely up to you.  For instance, sharing a sexual dream with, say, a co-worker can be grounds for sexual harassment.  Lawsuits aside, the way to share appropriately is to share safely and with good boundaries.
How to Start Dream Sharing Safely
Most importantly, you have to build some forum and safety.  You don't want to share dreams around the water cooler, because it's too conversational.  You want to dream share with someone who you know will listen, preventing the embarrassing yet sometimes unavoidable "I had the weirdest dream last night…" in which your "listener" proceeds to think about what they need to pick up from the grocery store.
There are no boring dreams, not if you have a good listener.  The key is reciprocation.  You share and they listen because they want their chance to share too.
The next key is habit.  I share dreams with my wife every morning while we are still waiting for the snooze to go off one last time.  It's automatic, part of our daily routine.  If a dream has some power behind it, the topic will come up again over the breakfast table, or later in the evening.  We may explore possibilities of what it means, but I don't want to get into dream interpretation right now — the main point is that sharing feels good, and it is rewarding in its own right.  It builds trust, emotional intimacy, and compassion.
It's Only a Dream, After All
Finally, dream sharing is about listening and about not being judgmental.  Dreams are messy, and they contain submerged feelings, tabooed content, and, to be frank, a lot of dark shit.  So choose your dream sharing partner carefully (or dream sharing group — we'll discuss group dreamwork later).  And that goes for yourself too: take your own dreams lightly and try not to get caught up in the drama if you have some really tabooed material come up.  Even Saint Augustine, the revered Christian saint whose lifework involved the concept of "original sin," forgave himself for his dirty nasty dreams.
In this respect, it's okay to say, "Hey, it's only a dream after all."  Not because it isn't important or vital or contains an embarrassing grain of truth, but because that is what dreaming is for: to discover what we really think, feel and believe when our rationalizing and socially-mandated cerebral cortex has been dampened through the marvels of dreaming cognition.   No judgments.
So try it.  Open up to your friends, your lover, or your family about your dream provided the above safety criteria are met.  Make a habit of it.  Notice how the dream changes as you tell it, how parts that seemed unimportant now seem epic, or vice versa.  Watch for slips of the tongue, for puns, and for associations.
But don't interpret the dream away just yet…. just let it breath; savor its taste in your mouth.   Even if it tastes like feet.
The next article is about how to start a dream journal to remember more dreams.