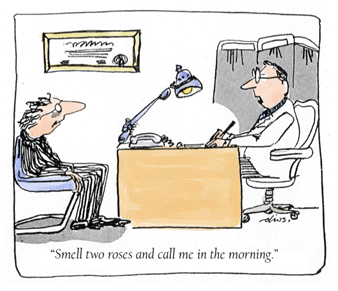 Here's a great piece of dream research that just hit the wires:
In a study of 15 healthy German women, smells in the dreamer's environment effected their dream content. Specifically, the smells (rotten eggs for some, and roses for the luckier subjects) boosted the negative or positive emotions of dreams.
The researchers asked the women to assess the content of their dream on an emotional "coloration" scale that measured the tone of their dream. They were asked to rate the positive or negative coloration of their dream on a scale of 0 to 3. Zero was no coloration and 3 was strong coloration.

After the control stimulation, there was a slightly positive average coloration of 0.5; after the rotten egg smell, the coloration averaged -0.4; and after the rose smell, the coloration was +1.2, according to the study.

"When stimulating the subject with a positive smell, the emotional coloration was positive in nearly every case, while with negative stimulation, the emotional tone was shifted to negative," Stuck said.
Interestingly, the dreamers did not report smelling anything foul (or rosy). Smell is one of the least-represented senses reported in dreams, so this study shows how we unconsciously process smells all the time. This is good news for those who sleep by the ocean, and bad news for those with a stinky partner.
It also presents an opportunity to enhance your dream life through aromatherapy. Careful though, smelling like roses won't necessarily scare away all the bad dreams. Our sense of smell is deeply tied to memory and sense of place, so you might just form a negative association with that potpourri over time.
Read the entire article here.