The annual PsiberDreaming conference is fast approaching: September 24- October 8. If you feel isolated in your life because no else will talk to you about dreams, this conference will open you to the world-wide community of dreamers.
Time to meet your tribe and geek out!
All online, affordable, and you don't even need high-speed internet to participate. We are talking Bulletin Boards and downloadable PDFs here: the old school feel of PsiberDreaming is in fact a part of its charm. Psiberdreaming attendees have lots of high quality exchanges with dreamers from all over the world, in a forum moderated and secure. Rest assured, your conversations will never show up one day in a google search.
How PsiberDreaming Works
There are 24 presentations–several are unlocked each day along with their attending forums. What makes the conference special is that you can ask questions and rub virtual elbows with the presenters, all of whom are well-known dream workers or researchers in the field of dream studies.
This year I am finally presenting about my trip to the Paleolithic painted caves last summer. I have tried to write about this trip several times over the last year. (In fact, the draft of my first attempt is still sitting in this blog's dashboard), but the writer's block has been intense.
So I've let it ferment.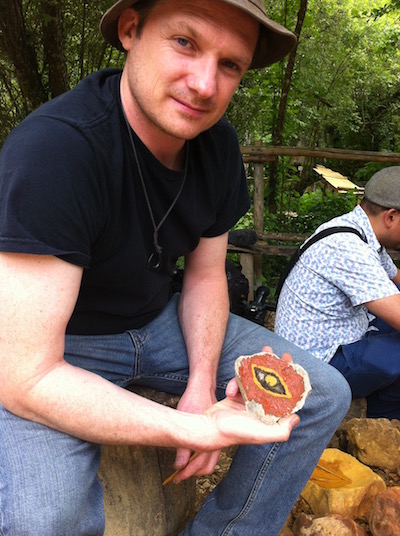 And now I know why: the visit to the caves has been profoundly confrontational to my worldview. I knew the trip would be intellectually stimulating, but I didn't expect it to break my heart open.
I can't get into now, but a lot of it boils down to the emotional transmission I received from a 18000 year old painting of a bison. Here's a pic of me honoring that moment by depicting the bison's eye using paleolithic paints and materials.
My presentation is called:
Womb of the DreamWalkers
Here's the abstract:
In the summer of 2016, I accompanied an inter-disciplinary team of scholars and indigenous practitioners to the South of France. Organized by the Worldwide Indigenous Science Network (WISN), our group visited a half dozen Paleolithic painted caves of the Dordogne, many of which have intact human painting that are more than 25000 years old. Our mission for the trip is best encapsulated by the aims of indigenous science: to perpetuate earth-based knowledge systems and to link it with western science to find clues to foster bio-culture resilience. 
 I will explore how descent into the Womb of the DreamWalkers in a sacred context invites a shift of consciousness akin to dreaming and what this shift implies from emotional, interpersonal and ecopsychological levels. This presentation is mostly personal process and insights gleaned from the trip with a focus on the transformational power of sacred sites and their continued relevance today for affecting human consciousness. I hope that sharing this intimate view of caves in France can soften hearts and further dialogue so Western society can get a little closer to a more balanced human nature.
Here's where to learn more about the fabulous 2017 PsiberDreaming con.
Lucidity, Psi, Trump (?!) and Cutting Edge Dream work
Besides my presentation, the keynotes this year are stellar: Jeremy Taylor, Kelly Bulkeley and Jodine Grundy all are presenting about dreams of Donald Trump. Yeah, Trump dreams is a thing.
And of course, so many more incredible papers on the cutting edge of dream studies, including:
precognitive hypnagogia
ecodreaming
shamanism and mutual dreams
lucid soul dreams
dreams of the eclipse
psi dreams and mystical illumination
As always, PsiberDreaming also hosts a high quality digital art gallery as well as fun interactive contests, including the annual psi dreaming contest.
I have to add, this conference is put on by the International Association for the Study of Dreams, of which I have been on the board in one way or another for eight years or so. If you become a card-carrying member of the IASD for the first time, you get the PsiberDreaming Conference for free. The membership swag is nice, but what the IASD really offers is a community of dreamers, including several opportunities a year to gather with other dreamers.
So, if you are a student, therapist, aspiring dream worker or just a dream enthusiast who is ready to join the world's biggest professional dream org, start your journey at Psiberdreaming.
Be sure to say hi to me in the forums when you make it in!