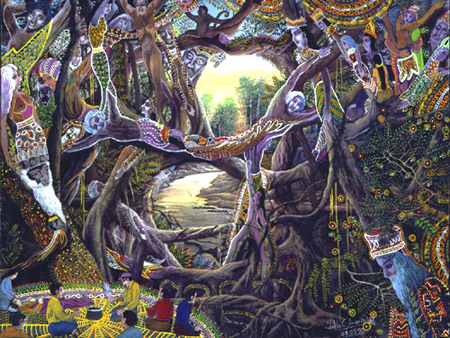 This is the Anthropology of Consciousness Review – Part III.
Shamanic tourism is gaining popularity every year. This segment of the ecotourism industry serves First Worlders who want to experience entheogens in a somewhat Indigenous context.
Of course, shamanic tourism is really a hybrid between cultures, mediated by a recognized shaman or group leader who is privy to both worlds (as well as a third – the spirit world).
Anthropologist Evgenia Fotiou's research has focused on Westerners" experience of these contemporary ceremonies. Last year she discussed how most Westerners take part in ayahausca ceremonies with the paradigm of "self-exploration." This is a much more atomistic approach to ayahuasca than Indigenous groups who cultivate relationships with the spirit world for the pursuit of healing other individuals and communities.
This year at the annual SAC conference Fotiou discussed the role of sorcery in Peruvian ayahuasca ceremonies. Guess what? That shamanic vacation package bought on-line does not insure against dark magic.
Fotiou's participatory research drawn from dozens of group sessions suggests that, whether or not Western participants are aware of it, their shamanic leader may be in engaged in a sorceric battle with competing shamans. In her words, "Dark forces and light forces are at work."
Perhaps this is not so surprising as shamans are competing for a limited number of tourists. And sometimes, accusations of sorcery are just as damaging to a local reputation as actually practicing it.
Something to keep in mind next time you are considering a mind-expanding retreat in the wilds of the Andes.
By the way, we"ve started an Anthropology of Consciousness page on Facebook. A great place to find more resources, conversation, and ideas about the role of altered states, mysticism, and entheogens in historic and contemporary societies.