So, I have entered into a new phase of my dreamwork. In a seemingly bizarre move, I have shifted beyond ebooks and gone backwards: creating an artful object that has its roots in centuries past. It's called the Lucid Talisman, and it's basically a restoration of an ancient cognitive tool for encouraging lucidity in waking life and in your dreams.
The talisman is a coin you keep in your pocket or on your person. When you come into contact with it, you have an opportunity to become more self-aware of your surroundings and your state of mind.
Are you dreaming? How do you know?
Very quickly, you begin to unconsciously associate the talisman with the shift into greater self-awareness. So not only does the Talisman increase lucidity in waking life, but it begins to bleed into the dream world too.
Want to cut to the chase? You can order the Talisman here.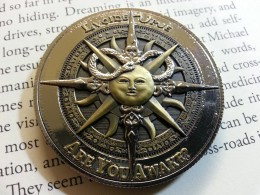 Lucidity as Ritual
Some of my readers may have seen this coming. After all, I am an ex-archaeologist and have written about the psychology of liminal objects and their effectiveness in banishing sleep paralysis night-mares. I have also taken pains to reframing the induction of lucid dreams as a ritual act that has more in common with ancient dream incubation and shamanic technology than the current virtual reality metaphor usually used today.
So, the fates aligned and when my friend Lee Adams of Embleholics announced he wanted to make a dream coin last year, I seized upon the idea.
We worked on the concept for months as I researched the history of talismans. We made a small batch of beta coins as a pilot run, to test proof-of-concept. It was immediately apparent that the talisman actually inspires the creative, dreaming mind. So we finalized the design and came up with this original, high quality piece.
Lucidity, the Old Fashioned Way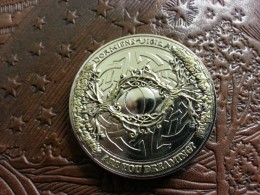 Personally, once I began to carry the talisman, I immediately started having better dream recall and more lucid dreams. The Lucid Talisman took on a vibrant and autonomous role in my dreams. In fact, the talisman seemed to provoke me into lucidity.
In one dream, for example, I am outside near a group of people at a picnic when I see the lucid coin bouncing up and down in front of my face as if on a string. I look it at curiously for a moment and then think, "oh! I'm dreaming!"
I'm strongly biased though, of course, so I handed out the talisman to friends and family, and they reported similar success. One friend began having regular lucid dreams, a rarity to him.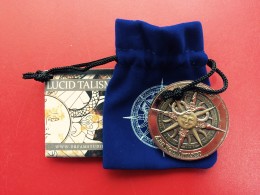 Since then, several people have shared dreams with me in which the Talisman directly provokes lucidity in the dream, suggesting it really can become an effective dream sign, that is an image or experience that triggers self-awareness that you are dreaming.
You can also use the Lucid Talisman as a reality check–for example, spinning the coin like a top, just like Leonardo DiCaprio's character did in the movie Inception, and looking to see if the words and design elements have shifted. You make this a cognitive habit, and it bleeds over into the dream. Several dreamers have already reported successful lucid dreams using this technique.
I'm really proud of being able to offer the Lucid Talisman as a new ancient kind of lucid dreaming tool. It comes in a velveteen bag with an instruction booklet. They are available on my Dream Studies Press site, with free shipping in the US.