The 8th approach in this series about working with dreams is dream honoring.  This is an ancient technique that, rather than trying to project waking life concerns into the dream, brings the dream into the world.  The action can be a blessing or a ritual, or it can be a change in course in some aspect of your life that the dream addresses.
Dream honoring is a practice, and it is not instant. It's the slow-food approach to dream digestion.  Over time, dream honoring is an invitation to let a dream breath, percolate and oxidize in the realities of waking life.  Like the process of doing dream art, the focus is not on trying to figure out what the dream means, but how best to let it live through us.  But as we act, the meaning is revealed, as well as deeper possibilities that hint at our greater potentials.
Example is the best teacher in this case.  I am drawing from Oneida elder and dream practitioner Apela Colorado.  In her classic article "Remembrance," Colorado describes a dream she had about swimming in the ocean:
"As I realize I am alone in the water, a sense of vulnerability arises; I do not recall how I got here.  I want to return to shore but am powerless to move.  The growing density of the night-time sky is matched by a sudden sense of growing danger in the water.  Suddenly I am aware of an enormous and awesome presence — Mano! The shark! (Mano is one of the most powerful animal spirits in Hawaiian cosmology).

My reaction is instantaneous.  Rolling over on my back I lie suspended in the water and I wait…. Lying motionless is the only act of reverence available to me.  I can feel him approaching from my right, swift and smooth.  He transverses the length of my body, as if appraising me.  Death may be imminent. I am afraid.  I am hopeful.  The shark turns and heads directly to me.  Bright blue lines of electricity stream from either side of his head.  Reaching my still body, he races beneath me, around me, wrapping me in blue lines of vivifying intelligence and power.  Then he is gone."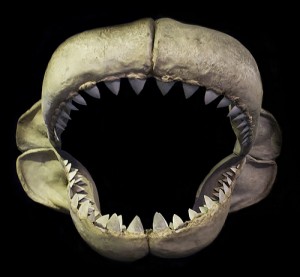 This is a remarkable dream in its own right.  Colorado's lucidity is apparent, as she knows she is in contact with one of her culture's spirit entities and responds appropriately.  Her act of reverence — lying motionless as the shark approaches — is courageous.  And she is rewarded by a gift of electric blue light that wraps around her dream body.
But Colorado's dream work begins after she awakens.  She lays a gift of tobacco in the ocean waters, a traditional offering. Then she waits and continues to give thanks.  Suddenly, in the water, she sees a shark fin emerge, only 50 feet away.  The shark turns and disappears.
For Colorado, this synchonicity is an indication that the shark acknowledges her dream offering.  The dream work goes on, as more encounters with friends and dreams eventually draw her to an new understanding of how to re-approach her own healing practice.
Dreamworker Karen Jaenke, PhD. breaks down Colorado's dream honoring process as: dreaming, discernment, action in the world, and healing resolution.
Here's how to make this process work for your life. 

First, focus on the powerful emotions of the dream and make a thanksgiving offering.  Ask yourself how dream corresponds to your life emotionally.
Second, watch for synchronicities that come in the weeks to follow.  This is the slow cook of dreaming as it bubbles up into your everyday life.
Third, make an action in your life that speaks to the dream's truth.
Lastly, if the action brings real change in your life, or some kind of healing resolution, watch for another dream that reflects this.  In this way, dream and life enter into conversation.
Learning how to make an offering, or giving thanks, is something that does not come easy at first.  But this is really the linchpin of honoring a dream with action.   Once the conversation between dreams and waking life begins, the feedback system becomes more and more uncanny, revealing emotional roadblocks, creative solutions, and opportunities for catharsis and healing.
The next, and penultimate, post in this series is about How to incubate a dream.
Sources:
1998, Apela Colorado. Reverance. First Reading Vo 13, no. 3.
2000, Karen Jaenke. Personal Dreamscape as Ancestral Landscape. Unpublished PhD Dissertation,  CIIS.