Do you know who first coined the phrase "lucid dreaming"?  Most sources point to Frederik van Eeden and his 1914 paper presented to the Proceedings of the Society for Psychical Research in London.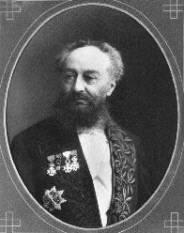 But actually, nearly 50 years before that, a French man by the name of Marquis d'Hervey de Saint-Denys used the term "rêve lucide," and discussed how he was developing the ability of "being often aware of my true situation while sleeping… and therefore keeping sufficient control of my ideas to guide their development in whatever direction suited me."
Sigmund Freud never got a hold of Saint-Denys' work: what would have happened to psychotherapy if he had?1
However, many other dream enthusiasts did read Saint-Denys, including Van Eeden. Saint-Denys' interest in "dream control" really sparked the rationalist movement in dream studies. He used his lucid dreams as an experimental tool, testing theories and making observations about how objects and dream figures behaved.
This is a fascinating point of departure in the historical development of dream research: the dream is seen not just as an experience one has had, but a methodology.
As Harry Hunt points out, Saint-Denys' theory of dream formation is eerily prescient of 20th century dream theories in neuropsychiatry, focusing primarily on memory processes, and specifically on the transformation of verbal thought into visual imagery. Freud didn't take kindly to that, and saw Saint-Denys as a competitor against his own theories.
Saint-Denys' dreams were beautiful and impactful too, and his rêves lucide might also be seen to have elements of what we call "big dreams" or "archetypal" dreams. Sometimes they read like Victorian vampire novels. For example,
"I dreamed I was transported to a sort of temple—dark, immense and silent. I was drawn by an irresistible curiosity towards an altar of ancient design which was the sole lighted object in this solitary and mysterious spot. An inexpressable emotion warned me that I was about to witness something unheard of…."2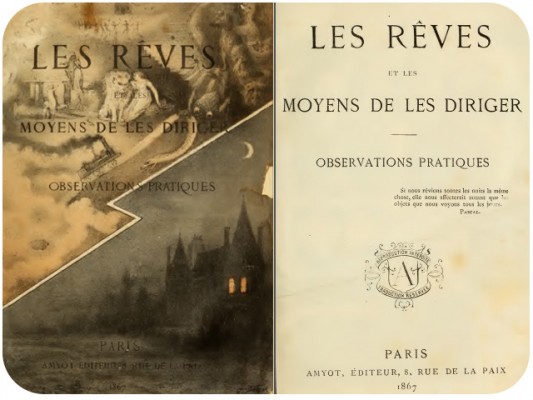 But get this: Saint-Denys' work Les Rêves et les Moyens de les Diriger (which translates as Dreams and the Ways to Direct Them) has never been fully translated into English. The quote used above from Saint-Deny's dream is from an attempt made back in 1982, which resulted in a very incomplete translation, which sadly lost the spirit of the original text. 
That's why I'm excited to support Daniel Love's new Kickstart project which is aiming to provide a modern, poetic and psychologically-accurate English translation of Les Rêves et les Moyens de les Diriger.
Love has assembled a crack team (you know I love crack teams!) including Saint-Denys scholar drs. Carolus den Blanken (who translated this work into Dutch some years back), Dr. Clare Johnson (an expert in lucid dreaming psychology and also fluent in French), professional linguist Amita Raval, and lucid dreaming expert Dr. Rory Mac Sweeney.
Even better, artist Louis Dyer—who has produced many incredible psychedelic lucid dreaming images—is on-board, and he will be recreating the original cover.
I have signed on a contributor as well (and am proud to say I was the second backer of the project!).  If the book is successfully funded, there will be an essay by myself reflecting on Saint-Deny's legacy, as well as several other essays by well-known lucid dreaming scholars, including Robert Waggoner, Daniel Oldis, and Keith Hearne. So it will really be two books in one.
Check out Daniel's campaign and become a part of lucid dreaming history.
If they meet their goal, it's going to be a beautiful and artistic book that will be a handsome edition to your dream studies library.
References cited:
1 LaBerge, Stephen. 1985. Lucid Dreaming. New York: Tarcher.

2 Hunt, Harry. 1989. Multiplicity of Dreams. New Haven: Yale Press, p. 78.

First Image: Wanderer Above the Sea of Fog, by Caspar David Friedrich, 1818. Hamburg, Germany