I have to be honest. Until recently, I have never looked deeply into the topic of dreams of past lives.  I basically just assumed it was wishful thinking added to a powerful dream experience.  But recently, ever since my own crack in the dam, I have forced myself to look anew at these reports.
When you've had your own extraordinary experience, it becomes impossible to hide behind the usual defenses when hearing other people's (you know, ignoring the reports, ignoring the history of inquiry, making stab-at-the-dark reductive and demeaning explanations, and ultimately, when these don't work, character assassination, like what happened to Dr. Brian Weiss.)
The deeper I went into the territory, I realized I couldn't simply discount the veracity of the reports. And some of the historical cases are incredible. I don't have any answers today, but this topic has fundamentally challenged my own neat paradigm of reality.
Here's an account that really got my attention, excerpted from Big Dreams: Lucid Dreams and Borderlands of Consciousness (Book 2 in the Dream like a Boss series).
Case Study: The Forgotten Saint
I was recently contacted by a man named Chris who had a powerful dream that has the classic structure of a past life dream.
I had a dream that I was walking down a corridor with old stone walls, a man appeared, I was part of a tour or something like that. The old man spoke to a person in the group and said to them: do I know you"? …at this point my heart jumped and very deep down I suddenly remembered I knew him… but somehow I'd forgot him… I started to cry , I was so upset that I'd forgot him!… He then turned to me and said… Ah yes… I remember you… I am Saint Claret.. A vision of the 3rd world eternity…! I said to him why have I forgotten you… he touched my nose with his finger and said.. you won't this time…. I started to wake up … but there was light inside my head…. I knew if I let the light get brighter something might happen… I chickened out and got up and shook myself. (personal communication, 2014)
Chris went on to tell me his does not have a religious background, but the dream was so unlike anything he has ever experienced before that the next day he went to his local bookstore and found, in the Oxford Dictionary of Saints, a description of Saint Anthony Mary Claret, a Spanish archbishop and missionary who died in 1870 and was canonized in the 1950s.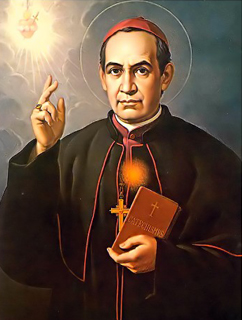 With further research, Chris discovered that the phrase "3rd world eternity" actually had relevance for the "real" St. Claret. As a missionary, Claret had been obsessed with the concept of eternity, and had been since the age of five. Now that's not so improbable that any Christian saint might write about eternity. However, Chris went on to discover, in his words, "that Claret held a prominent theological premise that the first world is matter, the second is spirit… and the third is the knowledge that the first and second are one and the same."
So, Claret's third world is the integrated landscape of eternal knowledge. How's that for improbability?
Although it is tempting to only pursue this dream from an anomalous or historical perspective, it's important to keep in mind the most salient feature of the dream for Chris is how it made him feel.
He told me, "I was mortified that I had forgotten him. To the point where I wept uncontrollably that I had forgotten him… I kept on saying to him "why have I forgotten you" … Also the recollection was way way deep down inside of me, hidden away from my waking conscious mind."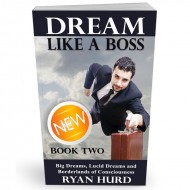 It's too early to tell why this dream came to Chris at this point in his life. Indeed, this dream will probably reverberate for the rest of his life. Like all dreams, we are forced to ponder, "Why this dream now?" He told me that his next plan is to honor Saint Claret's Saint Day. Even at this early stage, Chris's story is a reminder that researching powerful dreams can led to startling findings that might shake the bedrock of your perception of reality (and maybe, eternity).
This is an excerpt from my ebook Big dreams: Lucid dreams and borderlands of consciousness.