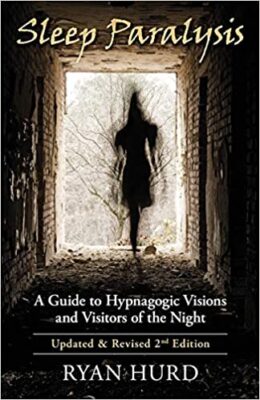 It's been ten years since Sleep Paralysis was published.  A lot has changed in a decade so I'm happy to announce the Updated and Revised 2nd edition of Sleep Paralysis: A guide to hypnagogic visions and visitors of the night. 
Sleep paralysis, at its core, is the terrifying experience of being held down while waking up from sleep.   
In the last decade, cognitive psychologists have learned how to successfully treat the worst of the symptoms, and neuroscientists have new understanding about how the hallucinations form. 
Still, there is still much to learn about the extraordinary aspect of this dream state, such as its relationship to out-of-body experiences, lucid dreaming and contact with non-ordinary intelligences. 
With over 20% new and updated material, this new edition of Sleep Paralysis courts special topics such as sleep paralysis's relationship to the doppelgänger, the succubus effect and sexual horror, and new developments in lucid dreaming theory.  
Here's what clinical psychologist Brian Sharpless, PhD has to say about this new edition: 
Recent movies and the disclosures of prominent celebrity sufferers (e.g., Billie Eilish; Kendall Jenner) have helped move sleep paralysis out of the academy and into the popular imagination. Ryan Hurd's interesting and extremely readable book will help to satisfy the public's curiosity. Along with discussing historical and theoretical aspects of sleep paralysis, he helpfully includes tips for getting a better night's sleep and ways to cope with this provocative (and sometimes scary) phenomenon.

—Brian A. Sharpless, PhD, clinical psychologist and author of Sleep Paralysis: Historical, Psychological, and Medical Perspectives (with Karl Doghramji, MD) and Psychodynamic Therapy Techniques.
At its heart, Sleep Paralysis is still a practical book meant to help move the reader from fear to empowerment with their own experiences with the visitors of the night.  It's full of practices that will improve your sleep and anxiety, which are the two main controllable factors for managing unwanted sleep paralysis.  
Here's what Jungian dream specialist Toko-pa Turner has to say:

"With Sleep Paralysis, Ryan Hurd has made an important contribution to the field of dream study. Born out of a necessity to tend to his own night terrors, Hurd has created a map from the inside out of those terrifying dreams that paralyze us in the night – into a conscious dreaming practice. Exuding the kindness and knowledgeability that only comes from embodied experience, Hurd gives us this readable guide to befriending these often difficult visitors."

—Toko-pa Turner, Bestselling Author of Belonging: Remembering Ourselves Home
In Sleep paralysis, I share my personal experiences with managing the scary aspects of the phenomena, including how to prevent a flare up during anxious times.
But my real passion is showcasing how sleep paralysis visions can lead to creative breakthroughs and even positive, healing encounters with extraordinary figures.
These experiences can be life changing. 
Taking an interfaith perspective, Sleep Paralysis does not espouse one way of interpreting these powerful experiences, but rather encourages readers to delve deeper into their own concepts of the Big Picture.  
"One of my favorite dream researchers, Ryan Hurd, has updated his excellent guidebook on sleep paralysis, with fresh analysis and information on the strange condition. With great dexterity he weaves the latest neuroscientific explanations in with esoteric and spiritual considerations, and shows how the intriguing states of hypnagogia and lucid dreaming can intersect with sleep paralysis. His personal experiences with these realms, along with the other absorbing accounts he's gathered, inspire and challenge us to "respond with curiosity rather than terror."
— Lex 'Lonehood' Nover, author of Nightmareland: Travels at the borders of sleep, dreams, and wakefulness
Here's where to pick up Sleep Paralysis on Amazon!