Since I"m in the business of pointing out good dream research, today I thought I would point out the opposite. Unfortunately, a recent fluff piece from The Daily Advertiser in Arizona is pretty typical of mainstream journalism. It's an entertaining read, but devoid of actual journalistic research.
The title of this article "Stuff that dreams are made of is pretty mundane" sounds like a good dream research lead-in, but it's actually a confessional by the author that he knows nothing about dreams and is bored by other people's experiences. He writes, "Note: I would research the topic, but I never could figure out that complicated Dewey Decimal System. "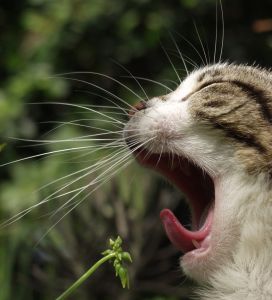 Granted, this article does has value, because the journalist's experience showcases a predictament of many people in Western cultures. Few of us remember our dreams, and some of us don't remember any of them at all. And why bother? For many, the dreams we do happen to remember are confusing, full of anxiety, or the worst of all: boring.
If the author had bothered to contact any dream researchers, or even do a google search between yawns, he probably would have discovered that dream recall is a learnable skill. The more energy you put into it, the more you get out. So it is not too surprising that this particular author is bored by his own dreams. They are boring because he does not believe his dreaming mind has anything of value to say.
I"ve seen this pattern before, in which journalists approach a subject with a bias, and then go about finding information that reflects their own bias. Here's another example of a solipsistic mainstream dream article that only succeeds in revealing the narcissism of postmodern thinking. (In contrast, this article actually did some great background research before turning back to his biases and embarrassment about his dream about a friend).
However, the article has stumbled onto a truism about our dreams that we often forget: most dreams are about our everyday, our habits and patterns, and the people who mean most to us. If this is content is boring, it really says more about how we view our own lives than anything else.
Keep in mind most dreams have what is called "negative content," which includes anxiety, fear, repulsion and other darker emotions that we usually manage to keep out of our daily awareness. Boredom is a typical reaction to these kinds of dreams because boredom is a normal defense mechanism – it attempts to prevent this material from sinking in. We can thank boredom for getting us through our teenage years (when we were trying to not remember that we are grown but absolutely powerless to contribute to our families), but as adults boredom is an overgrown defense that has usually outlived its usefulness.
Truth is, I"m sometimes bored by other people's dreams too. As a dream researcher, after all, the first reaction to hearing about my graduate studies is, "OMG, I had this weird dream last night….." In my case, boredom could be a defense against being suddenly thrust into an intimate relationship with a stranger who 9 times out of 10 doesn't want to know what I may see into their dream anyways. They want me to nod and say, "Yeah, that is weird, all right."
And that's what most pop journalism reflects back about dreams too: a half-hearted poking around that reveals some dark or tabooed material that is quickly laughed off as being non-sensical and meaningless.
Our culture seems to be terrified to consider the possibility that our dreaming minds pick up on information and patterns that our waking consciousness, for whatever reason, does not want to see.
Weird, huh?