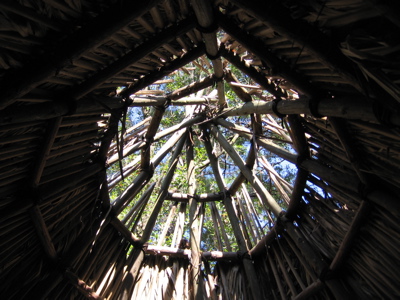 Just found an interesting article by Dr. Ron Masa about his practice of shamanic dreamwork. He tells a story about a women who discovered through her dreams a generations-old trauma that has been passed down through her father's lineage.
Many psychologists have suggested that deep family-of-origin issues can be seen to manifest in our dreams, but this pattern of dream interpretation is usually overlooked. Masa suggests that dream interpretation is multi-layered, and never a simple equation. However, our heritage is certainly part of the story. He writes:
One thread in the tapestry of dreams tracks our heritage and family history. We each contain the best gifts and worst faults of our "biological team" as part of our unconscious starting point in life. Scientists pass along their best discoveries, failed experiments and unresolved dilemmas in technical journals. Families bequeath this same information through biology instead of books.
Masa describes dreaming as "shamanic archeology of the mind." Given that soul flight is one of the primary calling cards of shamanism, I agree with him that dreaming can be considered one of the shamanic tools of ecstasy, alongside trance, drumming, and the ritual use of psychedelic substances. I also love the metaphor of dreamwork as archaeology, and not just because I used to dig ditches for science. After all, both uncover what was previously hidden. And both involve abandoned treasures in a murky substrate.
However, I prefer the phrase ancestral dreaming for this rich topic, because it sidesteps the current anthropological grump-fest about the origins of the word shamanism, and the term's misuse by New Agers to mean that anyone who shakes a drum and pops a tab of acid is a shaman.
Nonetheless, we all dream, and we all have ancestors who have passed us what I can only call, with all due respect, a mixed bag of nuts. It's up to us to make the connections.
Further reading:
Crockett, Tom (2003). Excerpt from Stone Age Wisdom
Kehoe, Alice (2000). Shamans and Religion: An Anthropological Exploration in Critical Thinking
Hayden, Brian (2003). Shamans, Sorcerers, and Saints