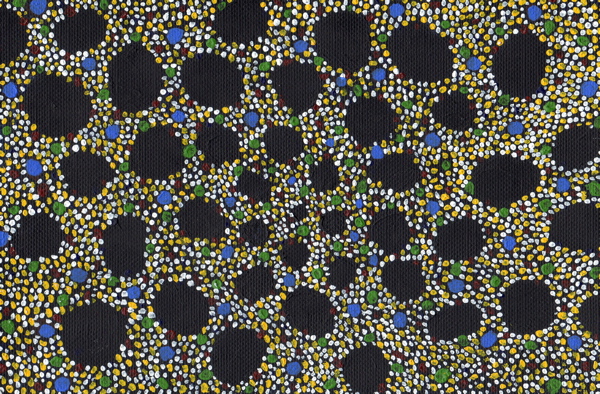 Below is a segment from my paper on imageless lucid dreaming that I"m presenting next week as part of the online Psiber-Dreaming Conference. I use visual art to help describe these lucid spaces that are difficult to put words to.
Growing up with Imageless Lucid Dreaming

Since I was a child, I have had conscious dream experiences that take place in immense, spacious realms devoid of light or objects. Sometimes these spaces are truly voids, and my own dream body does not exist. Other times, these spaces become filled up with abstract geometric patterns, or multi-colored buzzing particles that resembles the "snow" from a television set. I call this the "cosmic snow" because it is literally the stuff dreams are made of.

Lucid Dreaming Inquiry


For me, I often become lucid in an imageless dream due to its bizarreness, or by disturbing an ongoing scene by, for example, walking through a mirror or sinking through the dream ground. Then what typically happens next is I experience various geometric shapes and bizarre bodily feelings of flying or drifting, and finally "re-emerge" into a normal dream.

Sometimes a vortex emerges and I (the ego core without a dream body) enter the swirling lights, travel through a twisty-turny tunnel, and am then spilled out into a dream scene with a normal dream body.

In this paper, I"m interested in the larger patterns of how my "self" reconstructs after beginning in the imageless lucid void and moves into representational dreaming. To help counter-act my conscious expectation (or at least account for it), I developed a method that I call "lucid dreaming inquiry." My method, inspired by the Eastern witnessing traditions, as well as Ed Kellogg's explorations, follows from the Western method of phenomenology, within the dream itself.

Phenomenology in the Dream


Phenomenology can be considered a Western tradition of meditation, and at its most basic the method is about centering on the present moment, noticing thoughts and assumptions, and being open to what reveals itself in the here and now. I find phenomenology to be a natural for all lucid dream states, considering that lucid dreaming has long been practiced as meditation in Tibetan Buddhism, Hindu Yoga and Transcendental Meditation.

Some Western studies also suggest that lucid dreaming can resemble a spontaneous meditative state. After all, the exterior world has already been effectively shut out, so all we are left with is Mind (which is still a whole lot of something).

Letting Go of Control

The founder of phenomenology, Edmund Husserl, called the meditative practice at the center of his philosophy the poch (pronounced "e-pock-ay" with a short "e"). So "lucidity" in this sense is not the action-oriented control that many people associate with lucid dreaming, but receptivity and an openness of heart.

In a sense, it's about using volition to let go of control. And that's when things can get interesting.
My entire paper, and more lucid dream art, goes live on October 2 at the PsiberDreaming Conference. Hope to see you there!
Some online resources to check out until then:
Kellogg III, E. W. (1989). "Mapping Territories: A Phenomenology of Lucid Dream Reality." Lucidity Letter, 8(2), 81 – 97.
Magallon, L. (1991). Awake in the dark: Imageless lucid dreaming. Lucidity, 10(1&2), pp. 46-48.
Moss, K. (1991). Experimentation with the vortex phenomenon in lucid dreams. Lucidity, 10(1&2), pp. 49-51.