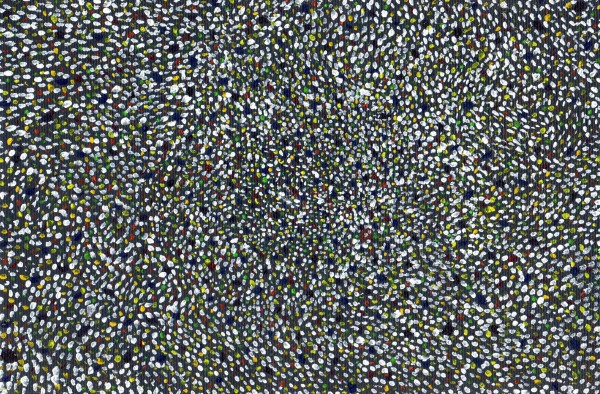 Since I was a child, I have had conscious dream experiences that take place in immense, spacious realms devoid of light or objects.  Sometimes these spaces are truly voids and my own dream body does not exist.  Other times, these spaces become filled up with abstract geometric patterns, or multi-colored buzzing particles that resembles the "snow" from a television set.  I call this the "cosmic snow" because it is literally the stuff dreams are made of.
As I grew older, I learned that I am not the only one who has experienced these uncanny spaces inside the dream.  The work of Kenneth Moss (1991) and Linda Magellon (1991) in particular have been beacons, illuminating this unknown realm on the edge of consciousness.  More recently, thanks to The Lucid Dream Exchange, I was able to read about many others who have also visited this lucid space that seem to resemble my "void," most notably Robert Waggoner and Ed Kellogg. Waggoner (2009) talks about "the gray state" and Kellogg (2005) details his lucid journeys into a vast abstract world he calls "the Matrix."  Also, visionary artist Fariba Bogzaran (2003) has detailed a similar realm that she has named "Hyper-space lucidity," characterized by lightning-fast travel and filled sometimes with dark light.
So we're in good company out in the void. I call this experience "imageless lucid dreaming" or simply the void. In both cases, there can be imagery, but not usually representation imagery, like icons, objects and every-day stuff. Some people, however, have hybrid experiences where the geometric imagery combines with representational icons. These visions can happen in the course of a normal dream (most likely REM) or in hypnagogia (sleep onset) and hypnopompia (sleep awakening).
A Void in the Literature
To date, there have been no published laboratory studies that look at imageless lucid dreams in particular, so we are still in the dark about the state's physiological signatures.  In fact, imageless lucid dreaming is in a similar place to where lucid dreaming was thirty years ago: experienced first-hand by many, and scolded by other non-believers that it is merely a "micro-awakening" between dreams.
Until we have third-person validity, therefore, it's important that we continue to document the phenomenology, or the first-hand experience, of this unique altered state. I'm including a few of my paintings (acrylic on canvas) that attempt to depict some of the realms I am discussing, because words are not adequate to express these multi-dimensional spaces.
Non-Directional Lucid Dreaming Inquiry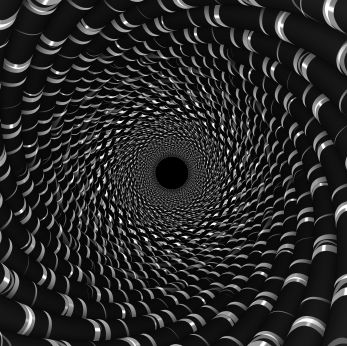 For me, I often become lucid in a dream due to its bizarreness. I can enter the void at will when I disturb an ongoing scene by, for example, walking through a mirror or sinking through the dream ground.  Then what typically happens next is I experience various geometric shapes and bizarre bodily feelings of flying or drifting, and finally "re-emerge" into a normal dream.  Sometimes a vortex is created and I (the ego core without a dream body) enter the swirling lights, travel through a twisty-turny tunnel, and am then spilled out into a dream scene with a normal dream body.
When time came to write my MA thesis in Consciousness Studies, I decided to focus on this realm of imageless lucid dreaming.  In particular, I was interested in the larger patterns of how my "self" reconstructs after beginning in the imageless lucid void and moves into representational dreaming.
To help counteract my conscious expectation (or at least account for it), I developed a method that I call lucid dreaming inquiry.  I incubated ten dreams in winter 2006 – 2007 which are the data set for this presentation.  My method, inspired by the Eastern witnessing traditions, as well as Ed Kellogg's (1989) explorations, follows from the Western method of phenomenology within the dream.
Phenomenology in the Dream
Phenomenology is a Western tradition of meditation, and at its most basic the method is about centering on the present moment, noticing thoughts and assumptions and being open to what reveals itself in the here and now.  I find phenomenology to be a natural for all lucid dream states, considering that lucid dreaming has long been practiced as meditation in Tibetan Buddhism, Hindu Yoga and Sufism.
Some Western studies also suggest that lucid dreaming can resemble a spontaneous meditative state (Ogilvie, et al., 1982; Gackenbach et al., 1987).  After all, the exterior world has already been effectively shut out, so all we are left with is Mind (which is still a whole lot of something).
The founder of phenomenology, Edmund Husserl (1931), called the meditative practice at the center of his philosophy the èpoché (pronounced "e-pock-ay" with a short 'e').  So lucidity in this sense is not the action-oriented "control" that many people associate with lucid dreaming, but receptivity and an openness of heart.  In a sense, it's about using volition to let go of control.  And that's when things can get interesting!
From Void to Dream – the Big Picture
Here's a creative re-imagining of the process of moving from imageless lucid dreaming into representational dreaming.
The process begins when I realize I am dreaming.  I sit down or wait and the portal emerges.  Through a hole in the floor, between bricks in the wall, or into an abyss, I move through the illusion and my dreambody dissolves, leaving nothing but my awareness and the dark, electric hum of imageless dreaming.  Waiting in these dark and vast spaces, I notice my fears and they float away.  Drifting down into a bottomless realm or falling through endless mists, I trust in the unknown and my ability to face it.  Waiting here requires a leap of faith.  Geometric lights and bodily sensations come together, a metaphor for something deeper.  The vortex blooms and tempts me in, but intention is needed to continue on that path, so it dissipates into snow and sands.  I wait more.  Finally, the spaciousness recedes and I feel the containment before I see it.  My body emerges with the scene, on the ground, or in the air.  Emotions spike with the setting and, later, characters emerge with their own agendas.  I participate as I must.  I have arrived.
For the more structurally inclined, below (Figure 1) is the basic progression of spontaneous emergence in the dreams.  Remember this is only meant to be reflective of my own experience, but I am very interested how other people experience this phenomenon.
The Relationship between Geometric Imagery and Bodily Sensations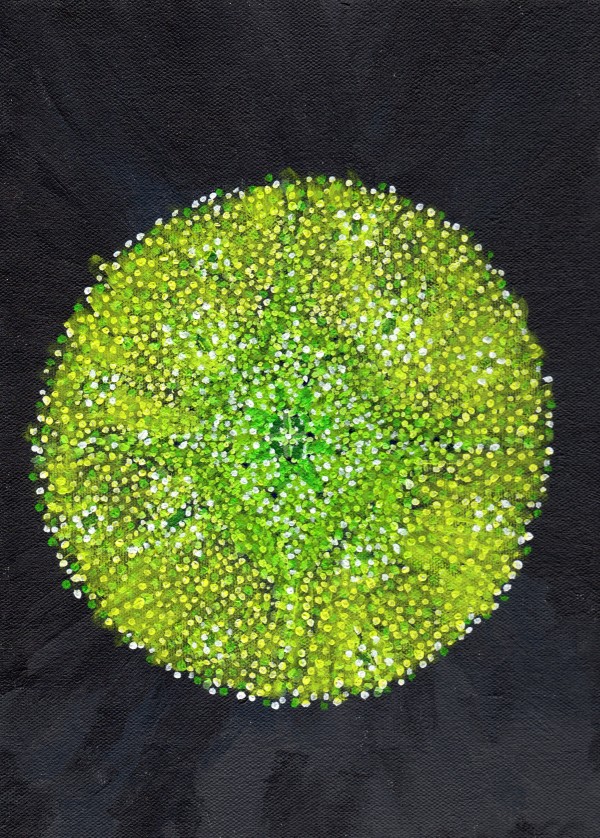 Now that I have laid out the big picture, let's focus on some of the more interesting features of the Void.  One of the findings from my self-study was a distinct association between kinesthetics (bodily sensations) and the emergence of abstract light and geometric patterns. In general, the faster the movement, the brighter and more complex the geometric lights.
For example, often a completely blank/dark gray visual field is accompanied by drifting slowly, tilting, or light floating sensations.   Grey and white sands, on the other hand, come with the sensation of falling.  The falling sensation can be intense, but not overwhelming.  Maybe a better description is "fluttery."  And when a vortex of color lights opens up, the feeling is of rushing rapidly, as if being catapulted through space.
White lights, dot matrices, lattices and spindles have all been cataloged in great detail by other lucid dreamers, most notably George Gillespie (1991).  For me, certain lights or patterns are also accompanied by certain emotions.  For example, when white lights bubble out of the dark grey and featureless visual field, I feel a sort of serene curiosity.  Contrast this with a full-formed, multi-dimensional mandala that is mirrored by an intense awe and sense of gratitude at this wondrous fractal beauty.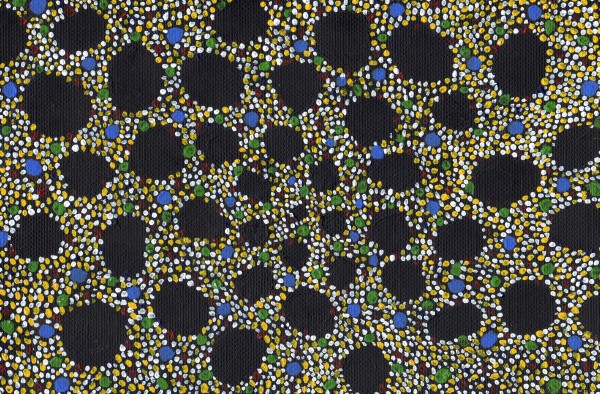 Perhaps the lights, the emotions, and the bodily sensations are all metaphoric representations of the same phenomenon, expressed visually and in the body. This is essentially Harry Hunt's integral perspective. The experience also has a difficult to articulate feeling that moved beyond mere emotions… a "felt sense" that is meaningful to the moment at hand and encompasses the entire experience.
Do these signs need to stand for something else?   Following Hunt (1989), they could be seen as multi-modal expressions that, much like bifocal vision, create depth through multiplicity.  Maybe the expression itself is the meaning? In  other words, the cosmic snow is my openness of heart, and the mandala is my awe.
Self-Emergence in the Dream
Finally, I'd like to comment on the final step of this process, my self-emergence into the representational dream world.  My self-study consisted of ten lucid dreams, with seventeen re-emergence sequences.
Here is a sample re-emergence, from void to the stabilization of scene and dreambody.
I am in a grayish void, feeling a little fear, drifting slowly down.  I remind myself that I am protected. "I trust in God," I say which surprises me but feels very reassuring.  Suddenly the scene re-emerges – blinding light quickly becomes a view of the Earth.  I am flying over forests and rivers, quite high up but still close enough to see individual trees.
In the seventeen dream fragments, a quarter of the scenes emerged in nature scenes like the one above, a quarter emerged in some variation of my present sleeping locale, and a full half emerged deep in my personal past.
Natural Scenes
These include transcendent flying scenes, as well as bizarre scenes such as floating through the earth, swimming in great bodies of water, and looking at the night sky full of stars.  In general, the nature scenes are closely associated with flying, floating or sinking.  The feelings include ecstasy, erotic feelings, clarity, and awe.
Present Scenes
These include "false awakening" style lucid dreams that begin in my present sleeping locale or emerging in a close variation of my current bedroom.  Emotions include erotic feelings, intense fear, and resistance.
Past Scenes
This group includes emergences into deep childhood scenes, consisting of confrontational interpersonal dynamics with extended family dream figures, and familiar home settings from early childhood.  Emotions are very intense, including resistance (to being here), anger, sadness, fear, forgiveness, and catharsis.
I was most surprised by the past grouping of re-emergence sequences. Keep in mind all of these re-emergence sequences are in themselves lucid dreams, so there was immediate understanding that, for example, "this is my childhood bedroom!"  I tried to maintain a "participation-observation" attitude in these moments, and this required the rallying of much courage to stand my ground.  My dream body was often that of a 6 to 10 year old boy, with adults being very tall figures and my voice sounding small and squeaky. I expressed my needs as best I could, resulting in some truly cathartic moments including tremendous expressions of forgiveness and self-forgiveness, as well as transformative anger (sacred rage) and openings of acceptance and joy.
The Transformative Potential of Lucid Dreaming
These dreams will continue to unravel throughout my life.  My goal is to share a lucid dreaming method that has been very transformative for me.  By remaining open, and cultivating mindfulness and courage, the lucid dreamer/oneironaut/phenomenologist can harness the power of volition for perhaps the most difficult of all lucid actions—letting go of control and trusting in the unknown.  Let the vortex draw us in!
I do recommend that anyone who wants to travel this path who has not done so before to have a solid support network of friends and/or mentors, much like before attempting a vision quest or other spiritual journey.  Know your intention, and take a hard look if this is a good, stable time in life to open up to wisdom of the Void.  Also, remember that the lucid dreamer always has the power to decide if this is a "safe place."  Asking for guidance, avoiding pain, and waking up are all natural actions to take if the lucid dreamer feels unduly frightened or at risk.
This article is based on my 2008 presentation for the annual Psiber-Dreaming Conference, which is in turn drawn from my MA thesis  Spontaneous Emergence: A Phenomenology of Lucid Dreaming.
References:
Bogzaran, F. (2003). Lucid art and hyperspace reality. Dreaming, 13(1), pp. 29-42.
Gackenbach, J., Moorecraft, W., Alexander, C., & LaBerge, S. (1987). Physiological correlates of "consciousness" during sleep in a single TM practitioner. Sleep Research, 16, p. 230.
Gillespie, G. (1991). Dream light: Categories of visual experience during lucid dreaming. Lucidity, 10(1&2), p. 25-27.
Hunt, H. (1989). The multiplicity of dreams.  New Haven: Yale Press.
Husserl, E. (1931). General introduction to pure phenomenology, vol. 1, New York:Macmillan.
Kellogg III, E. W. (1989). "Mapping Territories: A Phenomenology of Lucid Dream Reality". Lucidity Letter, 8(2), 81 – 97.
Kellogg III, E.W. (2005) Enter the Matrix: Exploring the Source Code of Dreams. Presentation at the 2005 Psiberdreaming Conference.
Magallon, L. (1991). Awake in the dark: Imageless lucid dreaming. Lucidity, 10(1&2),pp. 46-48.
Moss, K. (1991). Experimentation with the vortex phenomenon in lucid dreams. Lucidity, 10(1&2), pp. 49-51.
Olgilvie, R.D., Hunt, H.T., Tyson, P.D., Lucescu, M.L., and Jeankins, D.B. (1982). Lucid dreaming and alpha activity. Perceptual and motor skills, 55, pp. 795 –808.
Waggoner, R. (2010). Lucid Dreaming: Gateway to the Inner Self. Needham: Moment Point Press.