I'm excited to offer my first ebook: Sleep Paralysis: A Dreamer's Guide. This 100+ page manual leads readers through the fear of sleep paralysis nightmares, and teaches how to safely explore the extraordinary dream realms of lucid dreaming, out-of-body experiences, and creative hypnagogia.
This ebook is also the first focused study ever published on how to deal with the Strangers: the creepy hallucinations that often accompany sleep paralysis in the form of ghosts, demons, and horrific monsters.
Reader Testimonial: "Sleep Paralysis for me was a horrifying experience. I would feel helpless and totally immobilized while a feeling of abject terror and suffocation intensified. Ryan's ebook has helped completely change this. By following his advice and putting it into practice I learned ironically that if I relaxed, waking up is much easier and I have more control. This book is concise and will be helpful to anyone like me who struggles with lucid nightmares. Now for the first time in my life I actually want to have Sleep paralysis as I've now realized it's a launching pad for just about anything you can and can't imagine."
— Liam, Welwyn Garden City, England
Who will benefit from this book?
Sufferers from repetitive isolated sleep paralysis or periodic isolated sleep paralysis.
Oneironauts and lucid dreamers seeking a reliable entryway into shamanic levels of consciousness.
Sufferers from terrifying hypnagogic hallucinations and lucid nightmares.
Lucid dreamers who are prone to sleep paralysis and cannot shake the fear that comes with these visions despite that "it's only a dream."
Ministers, therapists, and dream workers who counsel people with this profoundly realistic vision but have never known what to believe about its causes, triggers, and its potential for self-growth.
Anyone interested in this mis-understood natural vision state and its relationship to ghost hauntings, historic witch trials, alien abductions, angel visitations, artistic genius and the little people who populate our minds.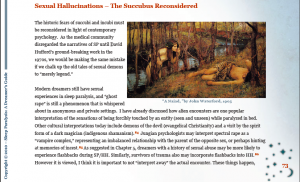 Sleep Paralysis: A Dreamer's Guide is a professionally designed and richly illustrated ebook with over 100 pages (and almost a hundred references too, if you're into that kind of thing).
The secured download comes with three bonuses:
The Sleep Paralysis Management Worksheet for designing your own SP plan.
An exclusive one hour conversation with sleep paralysis expert Jorge Conesa Sevilla, PhD., author of Wrestling with Ghosts: A Personal and Scientific Account of Sleep Paralysis.
A 45 minute talk on the science, culture and psychology of sleep paralysis that I gave at Stanford University in April 2012.
I'm offering these bundled together as the Sleep Paralysis Kit for $15, with a money back guarantee.