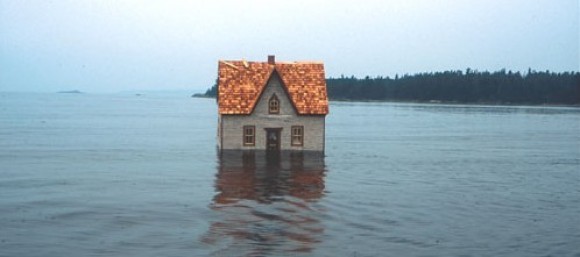 It's the last day of the year and I managed to find some time to myself in the middle of all the holiday parties buzzing around. It's a good opportunity to review what happened this year on DreamStudies, and what's coming next.
But first, some perspective. My wife and I moved three times in 2010, including a move from California to the fine state of Pennsylvania.  Hence the floating house. I'm amazed I got anything done at all, given that the bulk of the year was spent packing, unpacking, and repacking. My books spent almost as much time in boxes as they did on shelves. And we continuously reinvented ourselves, finally settling in Media PA, a forward-looking small town on the western side of Philadelphia.
It got real.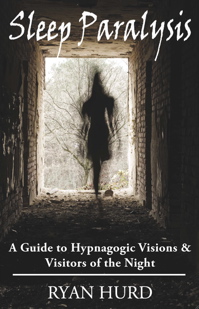 Life comes first, and then art. In between our juggling act of domesticity, I found the time to produce my first book. I wrote Sleep Paralysis: A Dreamer's Guide as an e-book first because I know so many people who are suffering and are desperate for help.
Increasingly, though, readers asked me to publish it as a "real" book, and this turned out to be a great decision. I published with Hyena Press, a small press out of Los Altos, California, renaming the print book's subtitle as "A guide to hypnagogic visions and visitors of the night" due to the additional content in the print book.
I was amazed how quickly this dream became a reality: from sending the files to my publisher to holding the book in my hands, the process took less than 6 months. We could do this because Hyena Press uses print-on-demand technology. As a non-fiction dream book about a highly specialized topic, with very little marketing to boot, the book is doing pretty well, and is regularly listed on Amazon in the top 50 dream books.
The book has brought a lot of press, radio interviews and accolades, including the opportunity to speak at Stanford University next month on the topic. I'm really excited for these opportunities to help remind our culture that visions and life-changing dreams still impact our society in the 21st century.
Academically Speaking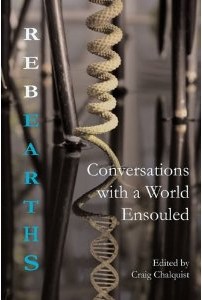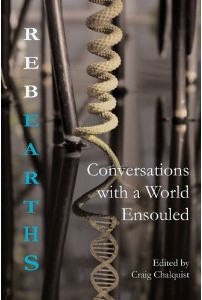 I've also been slowly but surely working on my academic contribution to lucid dreaming: how to use lucid dreams in scientific research as a method to uncover biases and discover creative new insights. My chapter in Craig Chalquist's Rebearths: Conversations with a World Ensouled is a poetic discussion of this lucid dreaming incubation method, which I applied when researching prehistoric rock art in Nicaragua in 2006.
A more formal description of this process will be published in the March 2011 edition of the peer-reviewed journal Anthropology of Consciousness. Reviewers from the fields of archaeology, museum studies, consciousness studies and psychology wrote commentaries on this article as well, making the entire article practically a third of the volume's content.
My hope is that these articles inspire other scientists, artists and cultural creatives to look to their dreams for inspiration and possible solutions to their current puzzles.
DreamStudies continues to grow
Meanwhile, DreamStudies got a new sleek look thanks to MadBadCat Designs. I also installed a mobile theme so you can read the blog on the mobile device of your choice.
Visitors and subscribers have been steadily increasing, even when I don't post for more than three weeks. That's been the toughest part of blogging for me, finding a regular posting rhythm. Slow and steady: that's been the pace of Dreamstudies for over three years, for better or worse.
The most popular posts of 2010 include:
Sleep Paralysis: Dreams of Being Held Down
9 Ways to Wake up from Sleep Paralysis
Inception: Dream Researchers Expose Project Somnacin
The Succubus Reconsidered: Sexuality in Sleep Paralysis
Lucid Dreaming as a Shamanic Technology
The 5 most Effective Herbs for Sleep and Relaxation
5 Traits of Natural Lucid Dreamers
Inception and Mutual Lucid Dreaming
However, many of the traffic from these posts came from stumbleupon, google search or other sources, not from my subscribers. So I'd like to ask you what were your favorite posts from DreamStudies this year?  Also, what would you like to see more of?  As much as I appreciate getting good traffic, it's really you, my core readers, who encourage and inspire me to keep this blog going. Your thank you emails, personal dream and nightmare accounts, and even your criticism make this labor of love so worth it. Thank you for that.
2011 – What's coming next
My hope is to publish more regularly in 2011, and start writing some shorter blog pieces again now that I've built up my foundational material. I'm also working on two different ebook projects that I'll unveil pretty soon. Many have also been asking me for more educational material for lucid dreaming, so stay tuned.
I'm also participating more with other dream education sites, such as the Dream Tribe. These creative partnerships wouldn't be possible without the collaborative spirit of the Internet, and I'm convinced that a new age is dawning in terms of the interdisciplinary field of dream research.
Hopefully, I'll be able to balance this with my freelance writing work, my local workshops and readings, as well as my family life in PA.  I can feel that 2011 is going to be a powerful year for dream studies — not just for my work, but for all those who are working on bringing dreams and imagination back into the fold of modern life.
So Happy New Year! May you sleep well and dream stronger than ever.
Don't forget to leave a comment about what you'd like to see more of on DreamStudies.