2022 has been a year of renewal for myself and the Dream Studies empire. It's been a long time since I did a year in review… I believe 2018 was the last one. Wow, but not surprising: in the last four years, the dreaming has been very much a side hobby  as I focused my energies on my full time job and family life.
Like many, I spent the first two years of the pandemic working largely online. In the role of spiritual director and educator, I helped a Unitarian Universalist congregation find its moorings as church life was dashed on the rocks by COVID-19. By the power of zoom, outdoor tents, and a "laugh or cry" sensibility, we rebuilt our community stone by stone.
One of my interfaith sermons from this era may be of interest to you: Pandemic dreaming: A time for big dreams
In the midst of this, in January 2022, DreamTime Magazine published an article by Apela Colorado, Beth Duncan and myself on the topic of dreaming as a sacred ceremony. The article is "Inviting the fox: dreams, community and synchronicity," detailing some of our dreamwork together at Chartres, France.
And in February, I taught a three week graduate seminar on dreams and ancestral recovery at University for Peace, a graduate school chartered by the United Nations and located in Costa Rica. I did this online, on top of my full time job, and it was A LOT. Still, it was an incredible experience holding these students in their process of personal and collective decolonization. By the way, UP's innovative MA program Indigenous Science and Peace Studies is accepting student applications for the 2023-2024 school year
I loved my time with the congregation and am especially proud of how we kept things together with frequent mindfulness programs, fire ceremonies, and storytelling gatherings about our spiritual journeys. And the youth group held together thanks to Minecraft and Dungeons & Dragons. (I am still a fan of Minecraft as a lucid dreaming tactic after all these years. And as a meditation to regulate my nervous system, I really got into builds of sacred structures during the pandemic).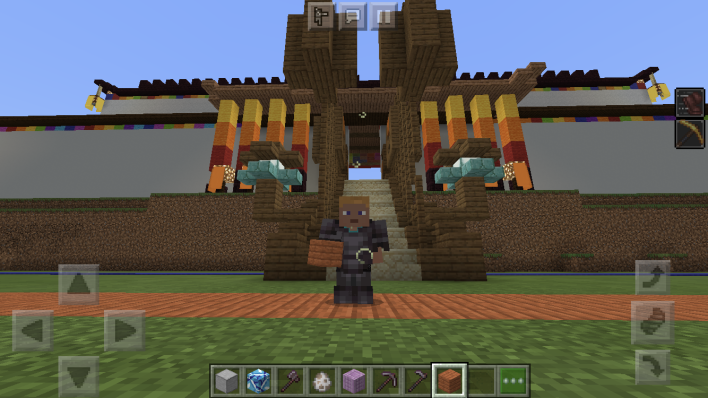 However, in June, I resigned from my position with the church in order to make more space for family, wellbeing, and of course, the dreamwork. I knew in my bones it was time to redirect my energies.
Here's what happened next.
In my last two weeks of employment at the church, I got COVID-19 along with all my family. Although we recovered quickly from the primary infection, the after-affects of the disease have been long-lasting for me, necessitating a grounding focus on wellbeing. (BTW if you're on twitter, I use my platform these days to amplify covid-related disability rights in between my dreamy musings and failed dad jokes).
After teaching sacred rest and preaching about the revolutionary power of the nap for years, I knew I had to take more of my own medicine. So, now unemployed, I slowed down and focused on rest and healing for much of the summer and fall. I took to heart (and to bed) Tricia Hersey's new book Rest is Resistance, which has a hypnotic style designed for you to lay your ass down while you read it.
October was a big month, as it felt like the real renewal of Dream Studies. I delivered an original presentation on lucid dreaming to the online conference Many Worlds of Lucid Dreaming, chaired by Robert Waggoner and Ed Kellogg. My paper, "Lucid Postures: A new map of consciousness for lucid dreamers," is an idea I have been working with for over a decade. The paper was well received and gave me the feedback I needed to move forward with this concept, which I will be rolling out in new forms in early 2023.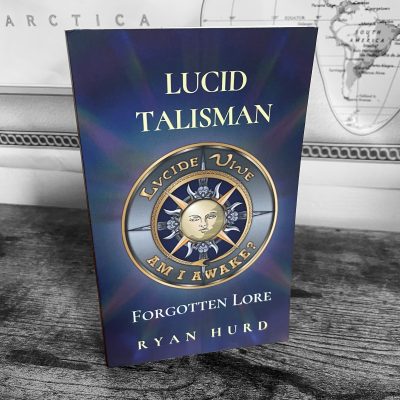 Also in October, I published my new book, Lucid talisman: Forgotten lore.  This book is the first physical book created under my imprint Dream Studies Press. Sometimes self-publishing is the way to go, and in this case it's much easier for mailing the book with one of my dream amulets, including the brand new Lucid Pendant. I loved the creative freedom of this project, from concept, to typesetting, choosing color images, working with a printer, and even doing the order fulfillment myself.
And although distribution is limited (allowing me to personally sign every copy), I'm still getting lovely comments from readers, such as David L. Kahn who wrote: "Lucid Talisman: Forgotten Lore adds to the many useful techniques available for lucid dream induction. As a lifelong lucid dreamer, the concept of using ritual as part of the process helps to put me in the right frame of mind for success, as well as to add deeper meaning to my practice." David, by the way, is a dream pioneer as well, and has recently written Storms and rainbows, a book about the dreams and nightmares of LGBT+ youth.
Finally in October, I returned to the world of podcasting as a guest on The Dream Journal with host Katherine Bell.  It was a Halloween broadcast, so I was given liberty to go full spooky.
This was followed up with a December airing on Way of the Dreamer with Robert Moss, where we had a fabulous conversation about lucid dreaming, amulets, sacred sites and a lot more.
Oddly enough, Dream Studies Portal published only 4 articles in 2022, mostly by guest authors. I am grateful for these high quality pieces by dream experts Kelly Lydick, Melinda Powell, and Sheila Pryce Brooks, which helped resuscitate the magazine after a long pause. Check out their pieces and support their work.
I really did more writing on Facebook. Both on my author page and also the Lucid Hive community, a group of fabulous lucid dreaming content creators. This group held me aloft this year — and I love the energy of lucidity there that is shepherded by Reece Jones and Jenniffer Claroscura.
Yet perhaps the biggest shift for me this year is that I reopened the doors to Dream Studies Academy after quite a few years. (You can sign up here to get special notifications about new courses.)
In November I ran a new class: Lucid Dreamwork, which uses my new book Lucid Talisman as the primary text in our month long exploration of the alchemy of consciousness. The course combined group coaching and optional one-on-one coaching with live instruction and an online classroom. This pilot course was a blast, and I'm working behind the scenes to make it available as a on-demand course in the near future.
What's next?
I've got big plans for 2023, but I'm also trying not to bite off more than I can chew. I'm still moving slowly, and I'm still prioritizing rest and recovery. Yet I am excited by moving back into full-time dreamwork.
So expect more teaching, articles and multimedia projects.
I also will make one-on-one Lucid Coaching available for those who need more guidance.
And this is breaking news: I'll be partnering more with Andrew Holocek and his Night Club community more as well, including a book group on Lucid talisman: Forgotten lore.
The big picture is that Dream Studies has been rekindled, and I'm working on my core mission like never before: to help us usher in a new era of dreaming and the Imaginal that prizes both the precision of 21st century thought and the wisdom of our ancestors… the best of the old and the new.
So a question for you, patient reader who has made it this far : what kind of dream studies classes and workshops would you like to see in 2023? What aspects of dreamwork, lucid dreaming and the imaginal need more attention in your life? I've got some good ideas, but I'm open as I design my yearly flow.
Happy New Year! Don't forget to notice your first dream of 2023. In Japanese culture, hatsuyume literally means "first dream," and your first dream of the new year can be a guide for what lies ahead.
May you sleep well and dream strong!