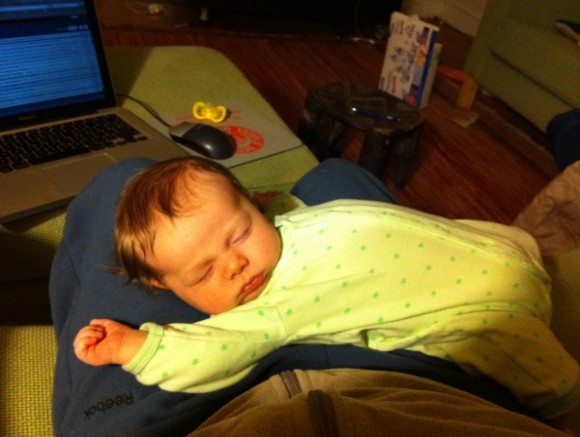 As the parent of a newborn baby (ain't he cute?), my sleep these days is pretty much toast. Seven weeks in, I've accepted that I'm not going to sleep for a period of more than two hours at a time for the foreseeable future.
But I'm not sleep deprived; I'm getting about seven hours of sleep a night, sometimes more.
Still, I'm not waking up refreshed at all.
That's because I'm actually suffering from sleep fragmentation, in which multiple awakenings throughout the night limit the amount of restorative sleep I get. Deep sleep and long bouts of REM are on the decline, and more of my night consists of light sleep.
This distinction is important as it puts me in the same camp as millions of other insomniacs who do not feel rested when waking up in the morning, despite having lain in bed for eight hours or more. The most common causes for insomnia – besides having a baby in the house – include diabetes and health conditions with chronic pain.
And more recently, financial anxiety.
Undiagnosed sleep conditions like sleep apnea and restless leg syndrome are also big sleep zappers because they cause hundreds of awakenings a night that are so short they aren't remembered.

This descent into the territories of insomnia has made me sensitive to the attitudes I hear in the media and around town everyday that seem to make light of the importance of sleep.
"I'll sleep when I'm dead."
"Sleep is for the weak."
Ah yes and my favorite: "Real men don't need sleep."
The masochismo is intense, and culturally enforced. I used to work at an office where co-workers would brag about how little sleep they got the night before, as a badge of honor of how busy they were. (They were shitty employees too).
Sleeplessness is more than an irritation. It's actually been declared a public health crisis. Apparently for every twenty people who think they can get by on five hours of sleep, only one of them is correct and the other 19 are chronically sleep deprived.
Let's be absolutely clear: our culture does not care if we sleep.
It makes me really angry. And because I'm presenting suffering from constant sleep fragmentation, my brain is less able to process positive emotions and more likely to make me fly off the handle.
Screw it, here's my rant:
Society actually profits from our sleeplessness, because when we're tired, we eat more, work more, buy more, and watch more media.
When our base needs aren't being met and our hormonal systems are out of whack, we are more likely to fill this void with consumer products, drugs and distractions.
In my opinion, this is not a conspiracy, and although the effect appears more sinister than mere benign neglect, it's probably more about short-sighted returns on human capital.
Because if businesses were really interested in productivity, (Workers with fatigue cost employers more than 10o billion dollars compared with workers without fatigue), we'd have sleep rooms in every business park.
If our culture really looked out for our health, teenagers would be allowed to sleep in. Aviation officials would be allowed to take naps. Doctors would have less grueling internships, resulting in less life-threatening errors.
And new dads would be less grumpy, because there would be shorter lines at the cafe.
I am not exaggerating: sleeping in is a revolutionary act.
So let's act in solidarity and take back our world, one nap at a time.
We'll start the revolution here. Comment below and share your most inappropriate, ahem, revolutionary napping act.