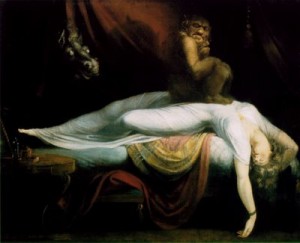 In April, I gave a lecture at Stanford University on sleep paralysis and hypnagogia. The teaching assistants of Dr. William Dement's class were kind enough to record the talk, so I cleaned it up a little and added a creative-commons badge so it can be shared and remixed to your heart's content.
Borderlands of Consciousness is a basic introduction to the spooky-sexy fun of sleep paralysis visions, including the science, psychology and cross-cultural history of the topic. It's aimed at students and others who may be looking to reduce the fear of sleep paralysis attacks that come out of the blue.
You can listen to the podcast here.
Or, as I explain in the talk, simply invert the known causes and triggers, and learn how to use sleep paralysis as a gateway to out-of-body experiences and lucid dreaming.
You'll also learn how, the night before I gave this talk, I was accosted by the Palo Alto Tickling Spirit, a mischievous imp that apparently haunts the local Super 8 Motel.

If you'd rather download the MP3, click here for the zipped file.
Image: Henry Fuseli's 1781 classic The Nightmare