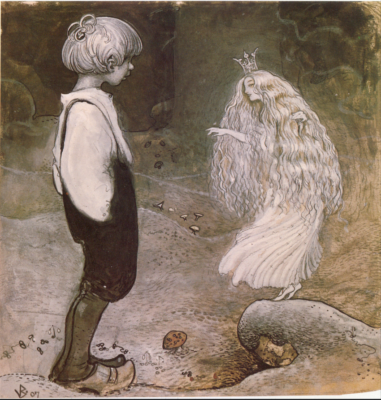 Not long ago, I was doing a nature meditation practice at my usual creek-side spot by the sycamore tree and became aware of the strong presence of a small spring that joins the creek. This mingling of waters became my meditation. Later, I found the true source, where the spring bubbles up from the ground, in some thick woodsy bramble only 200 meters from my home. An old wrought iron gate lay in the vines, forgotten by time.
That night, I had a lucid dream:
Two small fairies visit my bedroom. I try to talk and one of the fairies flies into my mouth, muffling my words. I have to gently remove her, careful to not hurt her delicate wings. She laughs and flies off.
This dream was a surprise, even though I'm no stranger to visitations by elves, trolls and otherworldly creatures thanks to sleep paralysis.
The day after this dream, I remembered how, in European folklore, fairies are often associated with springs and waterways. For some time since, I've been wondering how to honor this dream, knowing intuitively that at the least that the fairies want me to talk about them (as my voice is muffled until I get the creature out of my mouth).
I realized later that another way to honor the dream in waking life is to let the spring talk, by letting the landowner know about the gate. Perhaps she will clear the vines and set it back up so it can once again protect the source from contamination.
So I knocked on my neighbor's door and told her about my discovery. She had known about the spring, but not the gate. As it turns out, she is a friend of one of the main promoters of the town's historic society (and thankfully didn't question what I was doing skulking around on her property).
Why may nature observation be helpful for calling big dreams even inducing lucid dreaming?
Like lucid dreaming, the kind of consciousness developed while in nature meditation is between two worlds. The embodied mind learns to pick up on subtle interactions and communicate by synchronicity when an "exterior" event is mirrored simultaneously as an "interior" feeling.
Our culture has not taught us how to think holistically like this, but it's something humans are naturally good at. Once retrained, we can easily piece together what is happening out of sight. The evolutionary context for this way of thinking includes hunting, weather forecasting, and detecting patterns in animal chatter for disturbances we cannot sense ourselves.
I sometimes practice this nature meditation when doing site evaluations for archaeological recovery. The method rekindles intuition so overly critical thoughts masquerading as rationalism don't get in the way of new ideas or observations. In fact, I published a peer reviewed paper on this topic.
But I also practice nature awareness as a way to get to know where I live and to defrag after a stressful day. It's grounding. Processes like this develop the ecological self, our presence in nature that is mirrored and in flux with the elements and other sentient creatures who share the space.
Like dreaming, the edges between self and other blur when you are immersed in nature. And like lucid dreaming, directing your attention to this dynamic flux of self/other can result in profound transpersonal experiences, new information or solutions, and feelings of love and connectedness with everything.
We seem to have entered the domain of magic, where internal thoughts appear to cause external action.  But it's not wishful thinking; this is what I call ecodreaming. Humans have been doing this a very long time.
And fairies want to help us remember.
Do you dream of fairies?  How have you honored them?
This article is adapted from my ebook Lucid Immersion Guidebook.