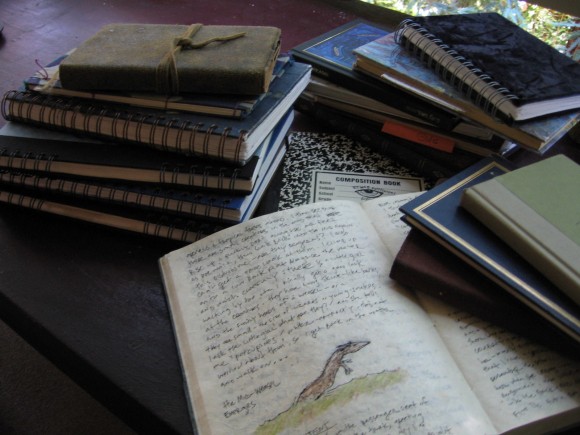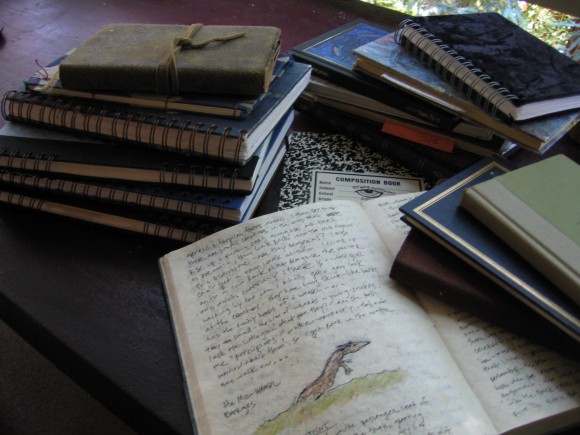 This is the third post in my series about working with dreams without a dream dictionary.  Today I'm focusing on dream journalling. Besides basic dream sharing, this is the easiest way to start remembering more dreams and working with them.
Everyone has their own way of keeping a dream journal, so of course the trick is to find what works for you.  These tips below are what works best for me, not only the actual techniques but also the important attitudes to keep for success.
Recording dreams starts with patience
Let's talk attitudes first.  You want to remember more dreams, but all you have when you wake up in the morning is the vague recollection of the color blue, or the lingering feeling of being frustrated.  It doesn't seem worth writing down…..  Actually, we all have to start somewhere, and those small clues are the gateway to the dreamworld.  So the attitude of "readiness to work with what I got" is key to starting a dream journal process.
Gotta be patient. You can't put too much pressure on yourself, especially if it's been months or even years since you last had a memorable dream.  I've found that when I put high expectations on myself to dream, I end up with disappointment.  Dreams are, by definition, mercurial…. they'll come around, in their own sweet time.
Making the habit stick
Like almost anything that is good for you, dream journaling will be easier to stick with if you make a daily habit of it.  That means setting time aside to record your dreams, as well as having a notebook and pen that is specifically for dreams, and nothing else.  Personally, I've noticed that my dream journaling comes in waves: I'll record six dreams in a row, and then the book will be blank for awhile.  What happened?  More often than not, the wave of  recording started at the beginning of the week when I reset my daily habits.  If I don't set the intention on Monday, I've got no dreams by Friday.
No judgments
Just like I mentioned in my article on dream sharing, it's important when journaling to suspend all moral judgements about what occurred in the dream.  Dreams have a habit of being socially unacceptable, which is probably one of the reasons why they are hard to recall in the first place.  Dreams often fulfill a desire or express something that would be inappropriate in our life.  As such, dreams are not the work of a corrupt or primitive sense of self as some may argue, but a natural clue to our unmet emotional needs.  And, besides, sometimes stuff is symbolic.   Bottom line, don't take your dreams too seriously.
5 Techniques for Dream Journaling
I have been writing down my dreams now for twenty years, most of which I have had a separate dream journal,  so I have a lot of data on my dream life.  This also serves as a record for what works and what doesn't when it comes to journaling techniques.  These are my tips for anyone who is new to dream journaling:
Pick your journal carefully, and make sure it speaks to you. Doesn't matter if it is a fancy leather-bound book with acid-free paper  or a spiral notebook you picked up at the dollar store.  What matters is that it feels good, approachable, and most importantly, that you use the journal for nothing else but writing down those dreams.  Admittedly, I have experimented with mix-use journals over the years, mostly because I was interested to see how my dreams and waking life intertwined.  That's a story for another time, but the practical result of this mixed-journal approach is that I wrote down less dreams.  So if you are just getting started, I recommend a dedicated book.  No recipes, phone numbers, to do lists.

My first dream journal, started on new year's day, 1991. Age 15. Note the marginalia about technique, and my trepidation.

Keep the journal and your dedicated pen by the bed. If you are really serious about recalling more dreams, you want the journal to be the last thing you see before you go to bed, and the first thing you see in the morning.  Also a good idea to have a book light or a pen with a light attached if you want to record a dream in the middle of the night, upon awakening.  Don't trust that you'll remember it in the morning — I can't tell you how many amazing dreams and brilliant ideas I lost with that assumption.
Record your dreams in the morning.  This is hard, I know.  But the truth is that the dream is easier to recall in the morning.  Also, our memory of the dream is less polluted by the "whitewashing" that we will later apply.  If you absolutely can't make time to record your dreams in the morning, jot down the most powerful emotions and images from the dream right after you wake up.  Later, such as over lunch, record the dream more fully. The danger here is, as we keep recalling the dream throughout the day,  we try to "tidy up" the dream into a clean little story with a beginning, middle, and end.  Beware of that urge – dream researchers call it the "narrative effect" when we alter the dream's memory by adding a connecting element like "I must have gone into the house next because then I was in the living room and…."  Instead, record what you remember.  "Now I'm in the living room.."  More dangerous still is the urge to "drop" a bizarre element that doesn't seem to fit in the story.  If I catch myself trying to drop a detail that my waking brain says is "unimportant" I make a special note of it.  Why? Because that incongruous detail sometimes turns out to be the most revealing part of the dream later on, once I get some distance.  Tricky, tricky!
Pay attention to what happens, as well as any remembered emotions and thoughts you had in the dream.  Remembering these details makes it easier to work with it later on.  It also helps build cognitive bridges between your waking self and your dream self (or selves).  Yeah, we are not always the same person in the dream; that's one of the coolest aspects of dreaming! I actually make it a practice in my lucid dreams to look in the mirror to see who I am.
Give the dream a title. This is a great little tactic taught to me by dreamworker Jeremy Taylor.  Giving each dream a title forces you to sum up the dream into a theme.  It also makes it easier to find the dream later on when you want to cross-reference it. Something short and sweet works best, like "Rotten sandwiches at lunch" or "Argument with my sister brings on a bubble party."  Sometimes these titles can later be instructive as well, as they may contain unintentional puns or admissions.
Okay, my challenge to you is to set up your dream journal system tonight!  Seriously, pick out a notebook on the way home from work, or dust off your old dream journal that hasn't seen any action for 10 years.  Choose a good pen.  Put them on your nightstand or within grasping reach of your bed. Plan out the morning in your head: wake up, jot down dream fragments, get up, brush teeth, shower, and eat breakfast. Next, record dreams.  Done.
The next way to work with dreams is Dream art and the central image.