I'm excited that my interview with Jordan Harbinger of the Art of Charm just dropped.

This is a fun conversation geared especially towards men about how working with your dreams can be beneficial for harnessing creativity, vitality, and emotional intelligence.
Of course everyone can benefit from this… it's just rare for me to talk about dreams to an audience of men interested in self-development. That's what makes the conversation so good, because Jordan's show is uniquely focused on "ordinary guys becoming extraordinary men."
We also talk about the health benefits of dreams, the power of naps, dream work versus dream interpretation and how to get into lucid dreaming.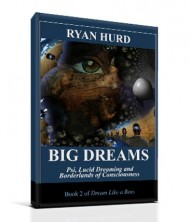 Most of this material is based on my ebook series Dream Like a Boss. Book 2 of this series just launched a few months ago: Big Dreams.
Give it a listen and share with the men in your lives who have been looking for an easy introduction into the mystery of dreams.
Here's the link to the show including show notes.
And here's the link if you want to go straight to iTunes.