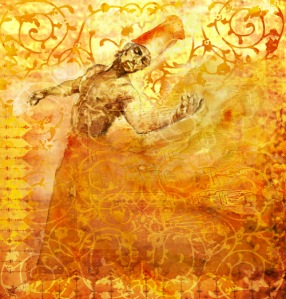 The reliance that Sufis place on dreams in their paths of spiritual progress is illustrated in a dream reported from the life of Imaam Abu Hamid al-Ghazzaalii (1058-1111). In Duncan B. Macdonald's 19th century biography, it is said that Al-Ghazzaalii was beset by many personal struggles of a spiritual nature during certain phases of his religious studies.
During one of those phases he had a dream in which he had a conversation with God, in which he was told to "abandon his formal rules," and to join the company of the Sufis whom he had been questioning. He asked God to help him change his feelings toward them. In response, he was told that the change will be made, and that he will be given new "lights" for his protection.
When he awoke from the dream "in great joy," al-Ghazzaalii reported it to his Shaykh, who gave further explanation of the dream. This dream is mentioned by Macdonald as a turning point in al-Ghazzaalii's life and career–one of the factors that led to his conversion toward Sufism. Al-Ghazzalii wrote many works which have guided Sufis and others ever since.
He is possibly not the only Sufi who has found rest and completion by following a suggestion received in a dream.
Confusions Stemming from William James
William James discusses Al-Ghazzaalii in his widely known, early work on the psychological typology of religious experience. James spoke of Sufism and al-Ghazzaalii in his discussion of  "Mysticism."  Unfortunately, there are some misleading assertions in what James wrote around 1900.  Among which is the stark contrast he makes between Persian "pantheism" and Arab "rigid monotheism."
Macdonald's American Oriental Society paper, which James was aware of, however, has a different type of comment on the diversity of schools of thought in Sufism, and the positions that al-Ghazzaalii took. But it is James's work that has influenced the modern Western view of Sufism mysticism.
Sufi Dream Interpretation and Self-Understanding
Actually, the Sufi tradition contains various strands of a distinctive "philosophical psychology" (Hermansen, 2001: 80-81) used in the interpretation of biographic experiences including dreams, visions, and other "Revelation" related phenomena. This psychology was also used in the creation of theosophical, allegorical, autobiographical, and other literary works.
The central premise here is that Sufism has to be learnt within the discipline of an Order, following the Shaykh of the Order for dream interpretation, as well as other aspects of the initiate's self and thoughts. A group or individual to whom the dream can be told for possible interpretation would seem to be a requirement in Sufism.
Self-interpretation of dreams, which has become increasingly common nowadays, perhaps because of the lack or paucity of reliable dream interpreters, and the resulting preference for self-interpretation evident in Internet discussions, would seem to contradict the Sufi approach to dream science.
Dream Symbols and the Influence of Rumi
A teaching of the thirteenth century Sufi leader and poet Mevlaana Jalaaluddiin Rumi, one of the most widely read poets in the United States, as quoted in a recent version by Refik Algan, addresses the problem of the arbitrariness and ambiguity of dream symbols as follows:
When you see in a dream that you are riding a horse, you will gain your goal; yet what connection has the horse with the goal? If you dream you have been given coins of good currency, the meaning is that you will hear true and wise words spoken by a learned man; in what respect does a coin resemble a word? If you dream that you have been hanged on the gallows, you will become the leader of a people; how do the gallows resemble a position of leadership?
Rumi provides a unique answer, suggesting that dreams have a "quite different interpretation" in the Hereafter, when a Divine Interpreter will explain them.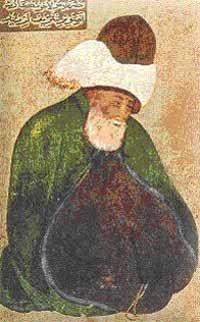 To Rumi and Refik Algan, this continuous reality of dreams through a lifetime and into the Hereafter also means that there is a possibility of a dream interpreter learning a way of understanding dreams that comes closer and closer to the seeing of the All-Knowing Interpreter.
The supposition of a final, correct interpretation at the end of the process, and related beliefs, distinguish Sufi dream theory in this area from other theories.  The Mevlevi Sufi framework presented by Algan, posits the possibility of perfection or near perfection of the human knowledge of dreams and dream interpretation, as well as a hierarchy of possible dream states and interpretations.
Historical and contemporary background information regarding the different Sufi philosophies about dreams, visions, and the human imaginative faculty is available in Marcia Hermansen's article in Kelly Bulkeley's Dreams: A Reader on Religious, Cultural and Psychological Dimensions of Dreaming.
Hermansen's paper marks a departure from the idea that Sufi dream interpretation is necessarily disconnected from other religious interpretation systems.  In an interview with an Indo-American Sufi dream interpreter, Hermansen notes that Hindu and Muslim interpreters in India arrived at a "commonality" of results.
This would seem to be a characteristically Sufi conclusion.
About the author
Dr. A. Muhammad Ma`ruf is an anthropologist interested in dream research discussions.  To read more about Sufi dream interpretation and continue the discussion, visit the topic on Facebook's Anthropology of Consciousness page.
References:
Katherine P. Ewing, (1990). The dream of spiritual initiation and the organization of self representation  among Pakistani Sufis. American Ethnologist, 17(1): 56-74.
Marcia Hermansen, (2001). Dreams and dreaming in Islam. In Kelly Bulkeley ed. Dreams: A Reader on Religious, Cultural and Psychological Dimensions of Dreaming
William James, (1987). Writings 1902-1910: 342-386.
John C. Lamoreaux, (2002 ). The early Muslim tradition of dream interpretation.
Duncan B. Macdonald, (1887).The life of al-Ghazzaalii with special reference to his religious experiences and opinions.
Amira Mittermaier, (2008). (Re)Imagining space: dreams and saint shrines in Egypt. In George Stauth and Samuli Schielke eds. Dimensions of locality: Muslim saints, their place and space. pp. 47-66.
G.E. Von Grunebaum and Roger Caillois ed. (1966). The dream and human societies. (Several papers)