We don't have to forget the last hundred epochs to appreciate the ancient aspects of lucid dreaming, but as Westerners we may need to let go of some destructive myths in order to participate at deeper levels of imagination like those still cultivated in dreaming cultures around the world.
Some of these myths include: we as individuals are alone, we as a culture are owners of the lands we inhabit, we as a species are separate from nature, and that the universe itself is a dead, mechanistic realm of cause and effect.
When we take these notions into the dream, the stage is set, the possibilities are limited, and the anomalies are stamped out before they have a chance to speak up.
However, simply donning the cultures of others is not the answer either. Cultural appropriation can sneak in when we are not looking, revealing hidden power dynamics that derive from those same colonial attitudes that reflect our own disenfranchisement from spirit in the first place.
There's nothing wrong with studying and practicing other culture's spiritual traditions, if it's done with respect and as long as we remember that we have our ancestry too.
Yet, in his book Dreamseekers, world traveler Harvey Arden writes about the way indigenous cultures feel drained by Westerners' appropriation of their healing ways. One young aboriginal man fumes, "Get your own Dreamtime. Don't take ours."
What is Deep Ancestry?
Euro-Americans, especially "white people," have a hard time connecting to our roots because in order to become white, we had to shed our own ethnicities in the process. Even if we have trouble connecting with our family's traditions, we all have deep ancestry.
Tom Crockett, author of Stone Age Wisdom, outlines how our deep ancestors viewed the world. These are important to keep in mind because dreaming cognition is the source for many of these views. By remembering principles from our own deep indigenous heritages—and we all have one or more—we can tap into the dream directly and rocket past roadblocks caused by the modern culture of separation, which sees the world as a pot of resources to exploit.
The five themes Crockett maps are that the universe is alive, conscious, dynamic, interconnected, and responsive.
The dream is alive!
Enacted within the lucid dream, and mirrored in waking life, these principles can help heal the wound of the dreamer who wants to move beyond control in order to communicate with other sources of identity, wisdom, and sentience. As I suggested in Chapter 4, researching into the cosmologies of our direct ancestors in the historical era can also provide a quick path into dream shamanism, as these ways are still half-remembered.
The ancestral path into lucid dreaming can often have an initiatory feel. Stick with it: behind the terror is a new level of awareness. Fear is often the bleating of an outdated paradigm about to give way to an expanded way of seeing the world.
I'd like to share one of my own lucid initiation dreams:
I enter a spiral stairwell and walk down the steps. I am aware I'm dreaming, nervous and excited. The banister is also a snake, winding its way down. I feel a sudden surge of humility as I walk down, knowing I am close to a source of power. The staircase becomes a round tunnel and I slide down quickly, enclosed but not restricted, emerging on a platform. I look down and am horrified to see that I am bleeding profusely from my chest and abdomen. Blood splatters the floor and I am simultaneously holding a box in front of me that is also bleeding. I feel I am close to something powerful. I hurriedly make one more downward turn, where the axis of the staircase winds tightly into a standing column of blood and light. It is alive, transparent, and pulsing with energy. I hold up my box and it fits into the column at about chest level. Suddenly, I feel relieved, and am no longer bleeding. Still lucid, but unsure how to proceed, I am struck with a pang of humility again. I fall to my hands and knees, prostrating myself in front of "the source." I thank it for this opportunity and feel very emotional, both ecstatic and sorrowful. I feel a compassion for myself (in my own thoughts) and I know that I am safe. (2006)
This dream is the first of a series of "reverence" dreams I have experienced since I began to concentrate on ancestral ways of knowing. This dream vision had an intense quality of more-than-realness that anthropologist Lee Irwin calls apodictic. The powerful column of energy and blood was terrifying to behold. I felt that I was seeing something that I was not meant to see.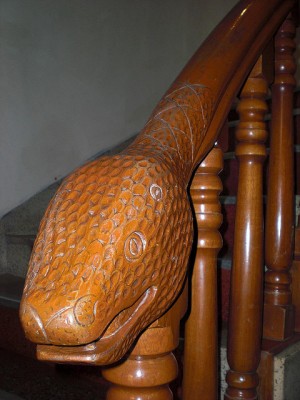 In this dream, the power of the autonomous force is the central focus of the experience, not my clever lucid witness. As soon as I framed this experience as a meeting, I was overcome with the need to ritualize my actions. And with this spontaneous action came an outflowing of thanksgiving and compassion.
I also want to draw attention to how the snake in this dream takes on the form of a banister, an architectural feature that literally provides guidance and support for moving deeper to lower levels. Could this image be more archetypal?
This snake-banister then spirals into a raw energetic source: alive and bristling with power, yet needing something from me—my own contribution. My action completed the circuit, relieving pressure and stopping the leak of life force (blood) from my dreambody. By healing the snake-energy column, my own dreambody is healed.
Our beliefs and expectations shape lucid dreams, including the dream architecture itself, the story arc, the myth behind the myth. With an attitude of awareness and humility, and a desire for interconnection with the autonomous energies of the dream, the dream expands, the conflicts abate, and we may be invited to enter into ritualized spaces that can transform us forever.
Have you had any lucid dreams that revealed something about your deep ancestry?
This article is excerpted from my ebook Big Dreams: Lucid Dreaming and Borderlands of Consciousness.