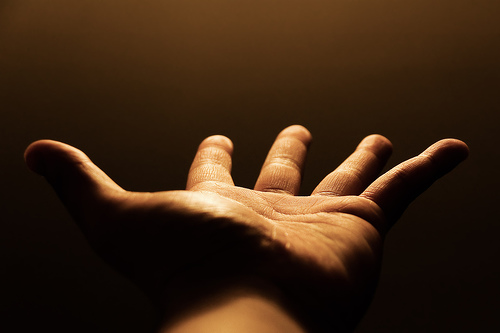 In my last article about dreams of the dead, I gave short shrift to dreams of bereavement, which is a subset of dreams where we are visited by the deceased.  Often, all visitation dreams are interpreted to be grief dreams, despite the wide range of characteristics shown in these bizarre experiences.   So, now let's take a look at dreams of the recently departed that do seem to be part of bereavement, offering up healing, closure and emotional release that aids the grief process.
Like visitation dreams, bereavement dreams center around a face-to-face with the deceased, with a steady narrative of meeting, exchange, and dissolution of the dream.  Unlike all visitation dreams, however, bereavement dreams tend to come more or less promptly after the death of a loved one.  Sometimes the night afterward, sometimes a week or month, or even three months later.  Bereavement dreams indicate that grieving is still doing its slow digestive work. In waking reality, the loved one is very much a part of the dreamer's daily thoughts.
Some bereavement dreams do not have the cognitive clarity or lucidity that other visitation dreams have; instead they can be highly emotional, resulting in waking up in grief and tears, sometimes mixed with elation. These dreams are not always positive on the onset, and they can actually be quite disturbing and confrontational.
Because these dreams begin with symbolic and visual representation (the contact with the deceased) and often end with strong emotions, some psychologists refer to these experiences as transformative dreams. Here is a dream published in Joseph Hart's book the Functional Theory of Dreaming:
I was walking somewhere outside and I saw my father.  I don't remember whether I clearly knew if I was dreaming, but I knew he was dead, or was dying, that I wouldn't see him anymore. (Patient's father has died that year).  I was sad for him, then for myself.  I cried –the feeling was stronger the more I cried.  I felt very sad that we didn't have more contact, that I had wanted to feel more with him than I had.  Then I was very sad that I would die and all feeling would stop.  I cried openly, deeply, and in my dream I couldn't see anything anymore.   I was inside my body.  My father's image disappeared, there was just my feeling, a deep sobbing feeling in my chest.  That was the most deeply that I had ever cried.
Note how the dream proceeds from image to feeling, leading to a remarkably deep heart opening.
Not all bereavement dreams are so plainly cathartic.  Sometimes they bring up other emotions and realizations.  Here is a touching example of a bereavement dream that was provided by one of my readers in a public comment:
my beautiful 19 year old step daughter died in a gymnastics accident on the 19/6/09, it was devastating and really hard to come to terms with.  My nights became blank until the 22/7/09 when I had a dream.  I was sitting on the lounge looking down at the coffee table and for some reason I looked up to see M. standing on the other side of the table looking down so her long blonde hair was covering her face.  I said "M. that's you," (then she lifted her head and shook the hair out of her face and smiled) "you're here."  At that point I remember feeling so relieved that all the other stuff was a dream.  I got up and walked around the table and grabbed M. and kissed her. then I sat back down on the lounge with M. on my lap just hugging her.  She was solid in my arms and was happy. I thought it was reality and after that I woke up and had sinking feeling when I realized it wasn't.
What strikes me about this dream is how real it seems to the dreamer at the time, so real that in the dream he knows that his daughter is still alive and "all the other stuff was a dream."   When he awakens, this reality does not hold up to the harsh morning light, but this cognitive dissonance does not mean that the dream is merely a wish fulfillment.  First, the dream's effect is a forced acknowledgment of this painful loss.  Also, the dream illustrates how his daughter is still alive in the dreamworld, and he still can connect with her there.  We often say that our dearly departed lives in our heart;  this dream shows that this can more than a metaphor.
The Unfinished Business of Grief
Because dreaming is as real as waking life to our minds and hearts, experiences like this allow for many possibilities of completing the "unfinished business" that comes with loss.  Psychologist Patricia Garfield has studied bereavement dreams in her private practice, and she writes in her powerful book The Dream Messenger: how dreams of the departed being healing gifts that:
"Our relationship with the dead endures. In our dreams, the dead have messages for the living.  The living also have messages for the dead that can be delivered in dreams.  Conflicts left pending when the death occurred can sometimes find resolution in the dream world."
Sometimes these conflicts can be pretty ugly.  Dreams of anger, fighting, and reliving past hurts is possible after a loved one has passed on.  There is no shame in these dreams; they are reminders of the complexity of our relationships and the emotional burdens that come with being close to another.  These moments offer reconciliation, or letting go of bitterness and old grudges.
Grief work is messy and painful.  After all, love brings with it a willingness to be hurt. As Rumi writes, "the heart breaks…. open."
Other times, like the father's dream for his daughter above, the conflict can be about accepting the death.  This can included unsettling imagery.  It is not uncommon to have a dream where the deceased looks undead, or ailing from some horrible affliction.   Patricia Garfield suggests that this kind of dream, while unpleasant, helps the dreamer remember that the person has passed on.  This too is a call for acknowledgment, which may be more of an issue if your loved one passed suddenly and tragically.
Bereavement dreams stir up our grief as much as they comfort us.  In this way, dreaming sometimes offers a balance to waking life thought, where we like to stay in control and our "window" for emotional healing is often small.  The dreams prod us on to acknowledge our loss at the beginning of the day, and remind us that our love is still very much alive.
These dreams are gifts.  Let them sit with you; let them show you the way to your heart and your grief.   Sometimes the way in is the way out.