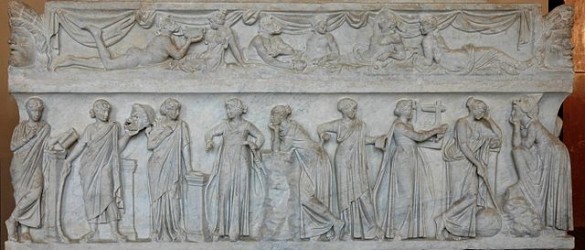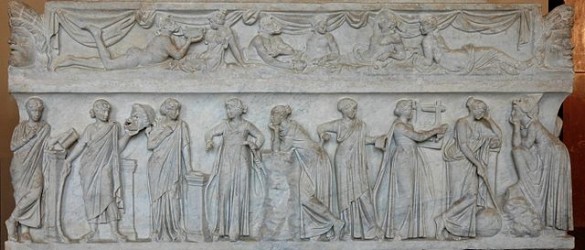 Next month, I'll be giving an invited talk at a dream conference in Weston, Massachusetts.  I'll be showcasing examples of how people throughout history–and especially today–have used their sleep paralysis-induced hallucinations for creativity.
The Creepy Neurological Architecture of Sleep Paralysis Visions
To be sure, most isolated sleep paralysis-related visions and hallucinations have a creepy nature to them, and it's not the first place you'd expect to have a creative insight.
We have the architecture of the state to thank for that: sleep paralysis visions occur, by definition, when we are aware of the body's paralysis during REM sleep, which triggers bodily metaphors of being held down or pressed upon.
Not very nice. 
REM is also a state of awareness that is characterized by strong emotional surges, and during sleep paralysis, it's very easy for fear to turn to terror because of this neurological priming. 
Unwanted dizziness, vertigo, and other strange bodily feelings (including the feeling of out-of-body experience) are also typical.
And lastly, we have the sensed presence of the Intruder and the full-on hallucination of the Incubus figure that can violently interact with the dreamer. Traditions around the world have been built upon the experiential reality of these spirits, including the Old Hag, the Kanashibari, and the Succubus or Incubus.
But Attitude is Key
As I've suggested in my ebook and in numerous articles and presentations, the dreamer is not automatically a victim.
We co-create the experience, and just like in lucid dreaming, our expectations often become entangled in how the hallucinations unfold.
This is simply the nature of self-awareness: how we respond to the world affects how the world, in turn, responds to us.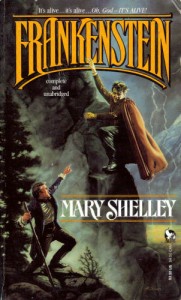 So I've been documenting cases of brave and creative sleep paralysis "sufferers" who have used their visions to spur on their creativity, from writing, art, music and even fashion design.  These dreamers had these results because they interrupted the fear-cycle to observe what was happening around them, and by responding with curiosity rather than terror.
You may be tempted to think that the key to going deeper with these visions is shielding yourself with the scientific truth that there's nothing to be feared in sleep paralysis (except fear itself), or by taking solace in the idea that the visions are meaningless tricks of the brain.
This is not sufficient.
It turns out that sleep paralysis visionaries also have something else in mind. They don't dismiss their hallucinations as empty or random, but rather envision them as encounters with something intelligent and wholly Other than their own rational awareness.
Rather than letting fear shut the encounter down, they respect who or what shows up, even if this can lead to some morbidly fascinating scenarios.
Sometimes the visitations of sleep paralysis — and some lucid dreams too —  really feel like a meeting of the minds. It is absolutely weird… the very definition of uncanny.
These are the moments that new truths and observations are revealed.
Enter The Muse
And that's basically what I'll be talking about in May at Regis College: the provocative and empowering concept of sleep paralysis visitors as manifestations of a Muse or Daemon, that transpersonal aspect of our awareness through which creative insight and innovation can pour into us.
By transpersonal, I mean beyond the confines of your individual personality, the ego.
Every encounter is a relationship, and we are not in control. The surrender is part of the experience.
It's actually a practical attitude, as well, as many people (myself included) have found that sleep paralysis encounters become more enjoyable –and sometimes lead to visionary experiences– when they stop fighting and surrender, go with the flow.
For more of this ancient outlook on creativity–as well as historic antecedents to it–check out this great TED talk by Elizabeth Gilbert, author of Eat, Pray, Love (if you haven't seen it already; it's one of the most viewed talks of all time).
Also, check out the brilliant work of Matt Cardin on this topic, whose explorations have stretched my own ideas about how the muse may relate to sleep paralysis visions. 
Got a story of sleep paralysis affecting your creative life? Either through providing direct insight or by nudging you a certain direction?  I'm all ears.  Comment below or feel free to contact me if you'd like to remain more anonymous.
First Image: CC Wikipedia. The nine muses—Clio, Thalia, Erato, Euterpe, Polyhymnia, Calliope, Terpsichore, Urania, Melpomene—on a Roman sarcophagus (2nd century AD, from the Louvre)